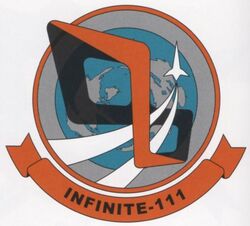 Mission 8 released. After the credits and a few quotes from PA, a shadow starts to dissapear, and reveals a, or the mobius emblem.
I found this kind of freaky. Maybe mobius has something to do with Reaper?
A few different things though, I noticed that the infinity mark is no longer black and blue, it is red and black. It has a white figured plane with the white streams going behind the ribbon, but it doesn't show the bottom portion of it. Darn...
The black side of the ribbon seems to be translucent.
There seems to be a missing some of the blue in the backround, just like the normal one.
INFINITE-111, appears to be the task force:
So, is Mobius coming after Reaper, or are they part of a mobius type squadron?