All right, gentlemen, it's time to clean house!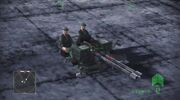 The ZU-23-2 "Sergey" , also known as ZU-23, is a Soviet towed 23 mm anti-aircraft twin-barreled autocannon. ZU stands for Zenitnaya Ustanovka (Russian: Зенитная Установка) - anti-aircraft mount. The GRAU index is 2A13.
Operators
Community content is available under
CC-BY-SA
unless otherwise noted.