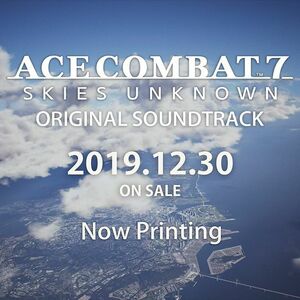 The ACE COMBAT 7: SKIES UNKNOWN ORIGINAL SOUNDTRACK[a] is the collection of music composed for Ace Combat 7: Skies Unknown.
The soundtrack will be officially released as a standalone physical product on December 30, 2019,[1] featuring over 100 tracks split between six CDs.[2] It will include tracks from the DLC missions,[3] in-game cutscenes, and multiplayer, as well as composer notes.[4] Pre-orders start on December 23;[1] the release will retail for ¥7,000 before tax (approximately USD$65).[2] The soundtrack was initially slated to release on December 3, but pushed back in November due to the addition of more songs that were still being recorded.[1]
Players who purchase the Season Pass gain access to the bonus Music Player within the game itself to play most of the soundtrack whenever they wish, not including cutscene or most multiplayer music. Players without the Season Pass cannot access the Music Player and cannot play the game's music outside of each mission.
Track List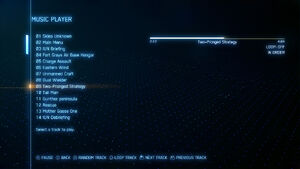 The following track list is taken from the in-game Music Player. The (incomplete) composer credits were provided on a March 14, 2019 livestream on Bandai Namco's Japanese YouTube channel.[5]
Skies Unknown
Main Menu
IUN Briefing
Fort Grays Air Base Hangar
Charge Assault
Eastern Wind
Unmanned Craft
Dual Wielder
Two-Pronged Strategy
Tail Man[b]
Gunther Bay
Rescue
Mother Goose One
IUN Debriefing
444th Air Base Briefing
444th Air Base Hangar
444[c]
Long Day[d]
Yinshi Valley
First Contact
Two Pairs
Pipeline Destruction[d]
Three of a Kind[d]
Waiapolo Mountains[c]
Identification
Faceless Soldier[e]
Transfer Orders
ADFX-10
444th Debriefing
LRSSG Briefing I
New Arrows Air Base Hangar
Siren's Song
Stonehenge Defensive[f]
Dragon Breath[f]
Magic Spear I[g]
Magic Spear II[g]
Werewolf[b]
LRSSG Debriefing I
Battle for Farbanti[e]
Sol Squadron[e]
Last Hope I[g]
Last Hope II[g]
LRSSG Briefing II
Homeward[c]
Supply Ship[b]
Lost Kingdom[f]
Archange[e]
LRSSG Briefing III
Lighthouse[e]
Daredevil[e]
LRSSG Debriefing II
LRSSG Briefing IV
Hush[e]
Space Elevator[e]
Dark Blue[e]
pensées
Multiplayer Mode - Lobby
Multiplayer Mode - Final Checks
Roca Roja
Mission Failed
Multiplayer Mode - Victory
Multiplayer Mode - Defeat
Multiplayer Mode - MVP
VR Mode
There are various additional tracks in VR Mode, including three new tracks for each of the missions. These tracks are remixes of tracks from the Ace Combat 04: Shattered Skies Original Soundtrack:
In addition, VR Mission 03 also plays Arcade Do or Die[b] from the Ace Combat 5: The Unsung War Original Soundtrack.
Multiplayer Stages
Each multiplayer stage has a specific selection of tracks that can play at random.[6] Most of these tracks come from older soundtracks in the franchise, except for Roca Roja, which is an original track featured in § Track List.
Footnotes
References
Community content is available under
CC-BY-SA
unless otherwise noted.