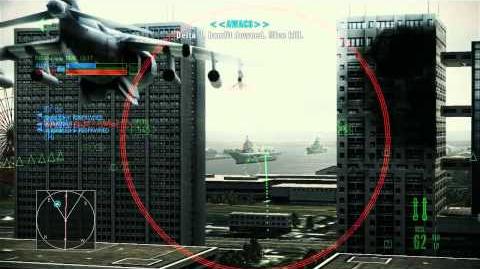 Ace Combat: Assault Horizon featured downloadable content (DLC) that added to the base game's contents. These DLCs included aircraft, skins, skills, and multiplayer maps.
On PlayStation 3 and Xbox 360, the game's DLCs were separated into "compatibility packs" depending on their release date. Online matches allowed players to set a maximum compatibility pack. For example, players could not use content purchased in DLC Pack 2 in an online match using a maximum of Pack 1. To obtain the Compatibility Packs themselves, players could either download them for free or purchase DLC content. The packs were cumulative; obtaining Compatibility Pack 4 allowed any content in DLC Packs 1–4 to be used.
On PC, the game was released as the "Enhanced Edition". Almost all of the game's DLC was included in the Enhanced Edition for free, and this version of the game did not feature Compatibility Packs, allowing all DLC to be used in all matches. However, the Tornado GR.4 and the F-14D "VF-1J & VF-1S Valkyrie" were not included in the PC Enhanced Edition.
All prices below are listed in U.S. dollars (PlayStation) and Microsoft Points (Xbox). All of the DLCs are no longer available for purchase, and all of the Compatibility Packs are no longer available for download.
Release Dates
| Pack # | Date |
| --- | --- |
| Pack 1 | October 11, 2011 |
| Pack 2 | October 26, 2011 |
| Pack 3 | November 2, 2011 |
| Pack 4 | November 17, 2011 |
| Pack 5 | December 14, 2011 |
| Pack 6 | December 20, 2011 |
| Pack 7 | February 15, 2012 |
| Pack 8 | March 21, 2012 |
Bundles
Maps
These maps are only playable in Capital Conquest, Deathmatch, and Domination. All players in the match must own the map to play there. Both maps were released in DLC Pack 6, and both maps could only be obtained by purchasing the Online Map Pack.
Aircraft
All DLC aircraft included three skins for use. These aircraft can only be used in Free Mission and the multiplayer modes.
Aircraft Skins
Skills
These skills can only be used in Free Mission or the multiplayer modes.
References
Community content is available under
CC-BY-SA
unless otherwise noted.