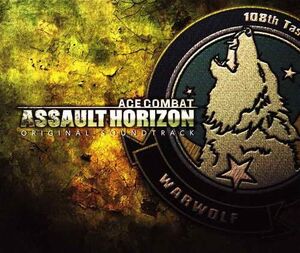 The Ace Combat: Assault Horizon Original Soundtrack is the soundtrack of Ace Combat: Assault Horizon. It will be released sometime after the release of Assault Horizon, presumably in late 2011 or early 2012. The OST features music composed by the Namco Sound Team, involving famed long time Ace Combat composers such as Tetsukazu Nakanishi and Hiroshi Okubo, while including new composers such as Rio Hamamoto and the Yuval Ron Ensemble. Copies of one disc containing some pieces from OST were available with the European Limited Edition of Assault Horizon, as well as pre-orders from Best Buy in North America.
The soundtrack contains a total of 38 tracks divided among three discs.
Track List
Disc 1
Rebirth
Inferno
Town of Fiction
Spooky
Tower, Respond
Blue On Blue
Mayday
Driven
Rush
Beyond the Canal
Hangar Bay #1
Disc 2
Dogfight
Paint
Pipeline
White Devil
Naval Warfare
Infiltrator
Undercover
Launch
Eyes
Moscow
Keep Alive
Shall Defend
Refrain
Disc 3
Hangar Bay #2
Deja Vu
Fight Back
Home Front
Fighter
Over There
Decisive Battle
Mrs. Krista Yoslav
Hurricane
Horizon
Release
His Repose
Dying Echoes
European Limited Edition CD
Following tracks are available on the CD:
"Rebirth" From Sand Storm
Inferno
Town Of Fiction
Spooky
Blue On Blue
Mrs. Krista Yoslav
Rush
Beyond The Canal
Pipeline
Launch
Dogfight
Release
Horizon
Gotta Stay Fly
Community content is available under
CC-BY-SA
unless otherwise noted.