Raise a Floppa - The Loop
Play Sound
Below is a timeline featuring the development history of Ace Combat: Assault Horizon, from the original announcement teaser to the game's release and post-launch details.
As a reminder, when entering new information, please insert "[NEW]" at the beginning of a section.
2010
April 26: Siliconera reports that Namco has registered the trademark "Assault Horizon" for use in video games and ROMs in Europe, sparking rumors that a new Ace Combat game is in development.
August 9: The announcement trailer of Assault Horizon is released worldwide, alongside the confirmation of multiplayer and other details.
September 16: Tokyo Game Show 2010 is held. A new trailer is released, featuring gameplay in Dubai and introducing details on the (then controversial) Close Range Assault mechanic.
December 17: Project Aces releases Ace Combat Assault Horizon: Trigger Finger for iPhone as a "Christmas gift" for fans.
December 22: A new "Holiday Trailer" is released on Namco Bandai Europe's YouTube channel.
2011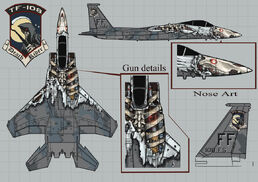 January 25: A gallery of screenshots of main character William Bishop is released.
February 19: The "Theater of War" trailer is released.
March 1: The "108th Task Force" trailer is released through YouTube.
March 3: Namco announces an F-15C Eagle skin design competition to be held through Facebook, deadline March 31.
March 31: The Skin Design Contest ends.
April 1: Namco Bandai's United Kingdom division uses the marketing budget of Assault Horizon to restore an old MiG-21bis for PR purposes, which is transported to the UK through the Admiral Kuznetsov, the flagship of the Russian Navy.
April ??: The Skind Design contest official ends, and Chi-Chun Liu is declared winner with his "Death Rider" design (pictured above).
May 10: The "The Shark" trailer, centering on antagonist Andrei Markov, is released. As well, the game's release date (October 13, 2011) is confirmed.
May 11: At the "LEVEL UP 2011" event held in Dubai, details on the pre-order program are released.
June 2: The Electronic Entertainment Expo (E3) is held. The cinematic Assault Horizon, the first trailer of the "Assault" trilogy, is also released. Gameplay demos are held.
July 19: Full details of the pre-order special edition, such as the steel casing, artbook and soundtrack are released. As well, the exclusive pre-order aircraft is revealed to be the F-4E Phantom II through an official trailer in YouTube.
July 28: The game lineup for Gamescom 2011, including Assault Horizon, is revealed.
August 11: The second Assault trailer, "Full-Blown Assault" is launched.
September 12: Namco announces the official demo of Assault Horizon for PlayStation Network and Xbox Live.
[NEW] September 14: Famitsu.com reveals Ace Combat: Assault Horizon Legacy and the ACAH demo is released.