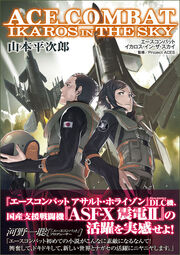 Ace Combat: Ikaros in the Sky
(エースコンバット イカロス・イン・ザ・スカイ) is an
Ace Combat
novel. It was published on March 28, 2012, in Japan (Japanese language) only by
ASCII Media Works
. The book is written by author Heijiro Yamamoto, and it features illustrations from noted artist
Kozaki Yūsuke
.
[1]
The SSTO section in Chapter 3 was included in the December 2011 issue of Dengeki Hobby Magazine as part of an article titled Ace Combat Short Story Scene 00 "Battle Encounter".[2][3]
Plot
In the year 2002, the country of Japan suffered an incursion of multiple unidentified aircrafts. The circumstances of this incident led to the birth of the "ASF" initiative, a project with the objective of creating a new fighter aircraft for the role of national defense.
The protagonist of the story, Japan Air Self Defense Force 2nd Lieutenant Kei Nagase is selected as the pilot of a prototype ASF aircraft, codenamed "Shinden II". Her former colleague, Wataru Asano, also happened to be a test pilot for the Shinden II. The fate of Nagase would change greatly as a result of his appearance...[1]
Table of Contents
Prologue: ASF-X (プロローグ:ASF-X)
Chapter 1: New Face (第一章:新隊員/ニューフェース)
Chapter 2 (第二章)

Q-X (クオ

ッ

クス)
Exercise (演習/エクササイズ)
Accident (事故/アクシデント)

Chapter 3 (第三章)

Conspiracy (陰謀/コンスピリシー)
SSTO (Armstrong/アームストロング)
Actual Fighting (実戦/アクチュアル・フ

ァイティ

ング)

Epilogue: Ikaros (エピローグ:イカロス)
Appendix (あとがき)
Gallery
References
↑ Scene 00 『エンカウンター・バトル』|ナガセ、「エースコンバット アサルト・ホライゾン」を奪取します。. Published on November 1, 2011. Retrieved on March 28, 2016.
↑ 「ACE COMBAT」の架空機体「ASF-X 震電II」をフィーチャーした書籍が登場. 4gamer. Published on March 19, 2012. Retrieved on March 28, 2016.
Community content is available under
CC-BY-SA
unless otherwise noted.