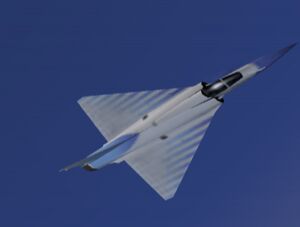 This is the full list of all aces featured in Ace Combat 04: Shattered Skies as well as where and how to find them. Shooting down an ace or completing a specific condition will unlock an aircraft skin for purchase, which the player can later use at any time.
In-Mission Aces
These aces only appear on SP New Game or Free Mission, both of which require completing the game's campaign at least once. In addition, these aces only appear on Normal difficulty or above, and they do not appear on the radar until the player gets close to them.
Other Special Skins
The special skins for the F-4E Phantom II, the Su-37 Terminator, and the X-02 Wyvern are not unlocked in any specific mission. These three skins have unique unlock conditions.
The player unlocks the F-4E's special skin, with the callsign Biela, when starting an SP New Game after clearing the campaign on Normal difficulty or higher.[1]
The player unlocks the Su-37's special skin, Yellow 13's livery, after acquiring all other ace aircraft skins (not including the X-02).[1]
The player unlocks the X-02's special skin—an Erusean Air and Space Administration livery—after earning an S rank on all missions on Expert difficulty.[1]
Trivia
All aces (except Yellow 13, whose name is unknown) are named after real-life astronomers. The X-02's special skin is based on Erusea's space administration.
All of the ace liveries, except Yellow 13's and the X-02's, feature either the words "Free Erusea" or the emblem later used by Free Erusea.
The aces typically fly an aircraft type that the player should be flying in that particular mission. For example, Ciffreo flies an A-10A during a ground attack mission.
Smirnova, named after Tamara Mikhaylovna Smirnova, is potentially a female ace. If true, this would make Smirnova the third-known female pilot in Ace Combat 04 (after Yellow 4 and Kei Nagase).
References
↑ 1.0 1.1 1.2 Ace Combat 04: Shattered Skies - Perfect Guide, page 151.
Community content is available under
CC-BY-SA
unless otherwise noted.