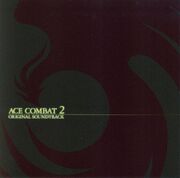 The
Ace Combat 2 Original Soundtrack
is the soundtrack of
Ace Combat 2
. The OST contains music composed by
Kohta Takahashi
,
Hiroshi Okubo
,
Tetsukazu Nakanishi
,
Nobuhide Isayama
and
Go Shiina
. In regards to its style, the soundtrack of
Ace Combat 2
was a huge leap from that of
Air Combat
, and marked a turning point in the series' musical style. It combines tunes with high-quality synthesis and electric guitar, made specifically to set a distinct atmosphere for gameplay.
The soundtrack was formally released in August 26, 2010, more than a decade after the game's release, as part of the Deluxe Pack of Ace Combat: Joint Assault. The Deluxe Pack OST is divided into two discs; Disc 1 centers on the music of Ace Combat 2 proper, while Disc 2 is centered on miscellaneous music, such as the tracks from the Ace Combat 2 Original Sound Invitation and an unused track from AC2. As well, it contains eight samples of Go Shiina's music for Joint Assault.
Soundtrack Listing
Disc One
Title 0:22
Lightning Speed 1:10
Dystopia 1:12
Invoke 1:37
Briefing 2:11
Lode Stone 1:46
Aim High 2:14
El Dorado 3:47
Fire Away 3:02
Bear Tracks 4:02
Rising High 1:53
On The Sly 3:22
Dead End 2:36
Blow Away 1:43
Warning Line 2:41
Melt Down 3:34
Fire Youngman 3:12
Elemental Particle 4:04
Aerial Hawk 3:43
Into The GEO 2:39
Night And Day 3:01
Sunset Glow 3:38
Dynapolis 2:29
Completition 0:11
Failure 0:09
A Fresh Youngster 1:26
Hanger 1:48
Ending Attract (Normal) 0:36
Ending Attract (Extra) 0:36
Normal Ending 2:09
Extra Ending 2:26
Disc Two
Invitation to ACE COMBAT2 5:26
Night Butterfly 5:36
A.C.Revolution 5:34
Hawaii Travel 0:22
Metropolitan 3:05
Linkage (Sky mix) 2:02
Tokyo 2:20
Riding on Hope 4:14
Conflict 2:27
Call 3:27
Footsteps in the Night Sky 4:13