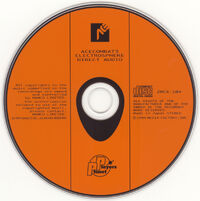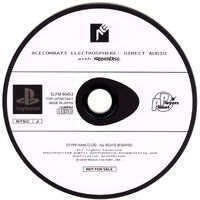 Ace Combat 3: Electrosphere Direct Audio with AppenDisc is the official release of the soundtrack of Ace Combat 3: Electrosphere. It features all of the music from the Japanese and international versions of the game, as well as some special features.
Contents
Ace Combat 3: Electrosphere Direct Audio with AppenDisc includes two discs (described below) and two small booklets. The booklets contain charts of the game's mission branches, including which tracks and cutscenes play in each mission. They also contain official artwork and some comments from those involved in the making of the soundtrack.[1]
Direct Audio
Direct Audio, found on both discs, contains the full soundtrack from both versions of the game, tracks exclusively used in some promotional material, and some unused/unreleased tracks.
Disc 1
Engage
Linkage
Armory
Transparent Blue
Eye of The Storm
Physical Layer
The Protocol
Montage
Quartz
The Maneuver
Mind Flow
Frozen Soul
Miles Above
Void
Black Lotus
Freefall
Alert
Superstition
Shattered Stones
Analogue
Turbulence
Defiled
Code of Honor
Floe
Lithium
Shorelines
Replay
The Crew
Disc 2
Electrosphere
Somnus
The Execution
Rotation
Liquid Air
Child's Play
Camber
Kernel
Revelation
Amorphous
Virgo
Gordian Knot
Zero-Sum
Morceaux
AppenDisc
AppenDisc, found on Disc 2 only, contains the following extra features:
Movie Player, allowing the user to watch all of the game's cutscenes without subtitles
Deadcopy, a save file that has everything unlocked including the X-49 Night Raven
Original Movie, introducing the user to the X-49 Night Raven
Gallery
Trivia
"AppenDisc" is a pun on the word "appendix", used to refer to supplementary material at the end of a book, article, or other document.
References