Raise a Floppa - The Loop
Play Sound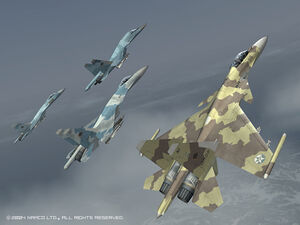 Following is the list of aircraft in Ace Combat 5: The Unsung War.
Playable
Aircraft Tree
Below is the Aircraft Tree featured in Ace Combat 5. Some aircraft are unlocked by filling the Kill Rate gauge on a previous aircraft on the same horizontal branch. Every point earned in the game will count for the Kill Rate gauge, but each difficulty will feature modifiers on those points. For more information on earning Kill Rate, see the Kill Rate article.
Base Aircraft
Kill Rate
First Branch
Kill Rate
Second Branch
F-5E
19,800
F-20A
60,800
X-29A
MIG-21BIS
80,000
MIG-21-93
F-4E
12,800
F-4G
47,450
F-4X
A-6E
43,200
EA-6B
F-16C
65,450
F-16C B60
F-16XL
F-2A
F/A-18C
51,800
F/A-18E
90,200
EA-18G
MIR-2000
35,000
MIR-2000D
MIG-29A
A-10A
85,050
YA-10B
F-14A
47,450
F-14B
56,250
F-14D
TND-GR.1
56,250
TND-GR.4
TND-F3
TND-ECR
MIG-31
65,450
MIG-31M
F-15C
95,450
F-15E
F-15S/MTD
SU-27
111,800
SU-32
SU-35

123,200

SU-37
F-117A
JAS-39C
TYPHOON
RAFALE M
46,000
RAFALE B
F-35C
YF-23A
F/A-22A
123,200
FB-22
SU-47
129,050
S-32
MIG-1.44
HAWK
X-02
ADF-01
Stats & Info
The MSSL ammo in the tables below is listed for Normal difficulty and above. Easy difficulty has an increased missile count, which is also listed inside (parenthesis). All aircraft have 99 missiles on Very Easy difficulty, as well as 20 missiles and 4 special weapon shots in Arcade Mode.
GUN ammo is not listed. On the Very Easy, Easy, and Normal difficulties (as well as in Arcade Mode), all aircraft have ∞ (infinite) GUN ammo. On the Hard, Expert, and Ace difficulties, all aircraft have 800 GUN ammo.
F-5E Tiger II (FIGHTER)
A low cost, lightweight tactical fighter with respectable capability in all areas. Easy to fly and maintain, the "Tiger II" is employed in air forces around the globe.
MSSL
SPD
MOB
STA
DEF
A2A
A2G

52 (76)
62
32
60
43
22
47
Unlock: Available at the start of the game.
Aircraft Price: Ƶ 8,100
Special Weapon: UGB x12
F-20A Tigershark (FIGHTER)
Known as the Tigershark, this aircraft is the successor to the F-5E. Its single engine design provides a 60% increase in thrust.
MSSL
SPD
MOB
STA
DEF
A2A
A2G

60 (80)
73
43
60
46
60
25
Unlock: Fill the F-5E's Kill Rate gauge.
Aircraft Price: Ƶ 11,900
Special Weapon: SAAM x10
X-29A (FIGHTER)
The forward-swept wings of this aircraft allow for exceptional turning ability. An advanced fly-by-wire system is employed to overcome instabilities caused by this design.
MSSL
SPD
MOB
STA
DEF
A2A
A2G

60 (80)
73
71
47
49
76
40
Unlock: Fill the F-20A's Kill Rate gauge.
Aircraft Price: Ƶ 17,100
Special Weapon: QAAM x10
MiG-21bis Fishbed (FIGHTER)
A small, single-engine fighter, codenamed "Fishbed". While its electronics and weapons capability are outdated, it makes up for it with high maneuverability and low cost.
MSSL
SPD
MOB
STA
DEF
A2A
A2G

56 (78)
73
35
29
42
22
47
Unlock: Complete Campaign Mission 03, "Narrow Margin".
Aircraft Price: Ƶ 7,600
Special Weapon: RCL x8
MiG-21-93 (FIGHTER)
A modernized version of the MiG-21bis, with updated radar and weapons control systems. Its appearance is unchanged, but internally this aircraft has been completely revamped.
MSSL
SPD
MOB
STA
DEF
A2A
A2G

72 (86)
73
74
59
63
82
46
Unlock: Fill the MiG-21bis's Kill Rate gauge.
Aircraft Price: Ƶ 19,200
Special Weapon: QAAM x12
F-4E Phantom II (FIGHTER)
Large fighter aircraft known as the "Phantom II". Although its design is outdated, its massive payload and superior range make it effective in both aerial and ground combat.
MSSL
SPD
MOB
STA
DEF
A2A
A2G

62 (82)
63
32
46
56
25
50
Unlock: Complete Campaign Mission 03, "Narrow Margin".
Aircraft Price: Ƶ 10,500
Special Weapon: NPB x10
F-4G Phantom II Wild Weasel (ATTACKER)
Known as the "Phantom II Wild Weasel," this attack aircraft is a modified version of the F-4E. It was designed to suppress enemy air defense networks by long-range ground attacks.
MSSL
SPD
MOB
STA
DEF
A2A
A2G

64 (82)
63
25
55
68
17
63
Unlock: Fill the F-4E's Kill Rate gauge.
Aircraft Price: Ƶ 12,500
Special Weapon: LAGM x10
F-4X (FIGHTER)
Advanced F-4E derivative originally developed as a reconnaissance aircraft. It was quickly deployed as an air superiority fighter after engine enhancements resulted in a 150% thrust increase.
MSSL
SPD
MOB
STA
DEF
A2A
A2G

70 (86)
83
54
61
60
73
37
Unlock: Fill the F-4G's Kill Rate gauge.
Aircraft Price: Ƶ 16,900
Special Weapon: XMAA x10
A-6E Intruder (ATTACKER)
Carrier-based attack aircraft known as the "Intruder." True to its name, this plane excels at infiltrating enemy territory at low altitudes to strike its targets.
MSSL
SPD
MOB
STA
DEF
A2A
A2G

60 (80)
44
25
51
68
15
61
Unlock: Complete Campaign Mission 04, "First Flight".
Aircraft Price: Ƶ 11,000
Special Weapon: UGBL x10
EA-6B Prowler (JAMMER)
This carrier-based electronic warfare aircraft is a variant of the A-6E. Known as the "Prowler," this plane provides active radar jamming support to protect its allies from enemy fire.
MSSL
SPD
MOB
STA
DEF
A2A
A2G

66 (84)
49
54
60
60
50
55
Unlock: Fill the A-6E's Kill Rate gauge.
Aircraft Price: Ƶ 15,200
Special Weapon: ECMP x5
F-16C Fighting Falcon (FIGHTER)
Also known as the "Fighting Falcon." Small and lightweight, this aircraft is a well-balanced fighting machine for air-to-air and air-to-ground combat.
MSSL
SPD
MOB
STA
DEF
A2A
A2G

60 (80)
73
44
46
46
30
55
Unlock: Complete Campaign Mission 06, "White Bird (Part I)".
Aircraft Price: Ƶ 12,000
Special Weapon: UGB x14
F-16C Block 60 (FIGHTER)
This lightweight fighter is a modified F-16C. It has an improved radar system and a conformal fuel tank, which enables extended range without increased drag, for better overall performance.
MSSL
SPD
MOB
STA
DEF
A2A
A2G

68 (84)
73
65
60
49
76
40
Unlock: Fill the F-16C's Kill Rate gauge.
Aircraft Price: Ƶ 18,100
Special Weapon: XMAA x12
F-16XL (ATTACKER)
This modified F-16 features a double delta wing for better acceleration and maneuverability at low speeds. Its increased wing area allows for greater weapons payload, ideal for ground attacks.
MSSL
SPD
MOB
STA
DEF
A2A
A2G

68 (94)
66
52
64
61
34
80
Unlock: Fill the F-16C's Kill Rate gauge.
Aircraft Price: Ƶ 18,300
Special Weapon: XAGM x14
F-2A (ATTACKER)
An F-16 variant developed through an international collaboration. While its design is optimized for air-to-ground and air-to-ship combat, the F-2A is also an effective air superiority fighter."
MSSL
SPD
MOB
STA
DEF
A2A
A2G

72 (86)
63
55
70
62
40
85
Unlock: Fill the F-16C's Kill Rate gauge.
Aircraft Price: Ƶ 19,500
Special Weapon: LASM x12
F/A-18C Hornet (MULTIROLE)
Due to limited amount of planes a carrier can hold. This carrier based Hornet was designed as a multirole aircraft to handle both air-to-ground and air-to-air targets.
MSSL
SPD
MOB
STA
DEF
A2A
A2G

64 (82)
68
44
53
57
27
62
Unlock: Complete Campaign Mission 06, "White Bird (Part I)".
Aircraft Price: Ƶ 13,100
Special Weapon: LASM x10
F/A-18E Super Hornet (MULTIROLE)
Modified version of the F/A-18C multirole aircraft. Increased engine power and other upgrades have enhanced its mission capacity.
MSSL
SPD
MOB
STA
DEF
A2A
A2G

68 (84)
78
58
63
61
68
43
Unlock: Fill the F/A-18C's Kill Rate gauge.
Aircraft Price: Ƶ 16,900
Special Weapon: XMAA x12
EA-18G Growler (JAMMER)
This carrier-based electronic warfare aircraft is a modified version of the F/A-18. Its primary role is to minimize threat to the squadron by jamming enemy radar.
MSSL
SPD
MOB
STA
DEF
A2A
A2G

74 (88)
78
75
74
52
65
69
Unlock: Fill the F/A-18E's Kill Rate gauge.
Aircraft Price: Ƶ 21,000
Special Weapon: ECMP x6
Mirage 2000 (FIGHTER)
Digital control of its larger delta wing with increased wing surface area gives this lightweight multirole fighter superb acceleration and immediate response during maneuvers.
MSSL
SPD
MOB
STA
DEF
A2A
A2G

60 (80)
86
44
31
46
59
23
Unlock: Complete Campaign Mission 07, "Front Line".
Aircraft Price: Ƶ 12,300
Special Weapon: SAAM x8
Mirage 2000D (ATTACKER)
Based on the Mirage 2000, this aircraft has improved air-to-ground attack capabilities. The fuselage has been strengthened to enable high-speed, low altitude surface attacks.
MSSL
SPD
MOB
STA
DEF
A2A
A2G

64 (82)
86
54
38
59
36
60
Unlock: Fill the Mirage 2000's Kill Rate gauge.
Aircraft Price: Ƶ 14,900
Special Weapon: UGBL x14 (NTRL x50)[note 1]
MiG-29A Fulcrum (FIGHTER)
This fighter was developed with the goal of overpowering the enemy in one-on-one combat. The Fulcrum boasts powerful engines and refined aerodynamics for superb maneuverability and handling.
MSSL
SPD
MOB
STA
DEF
A2A
A2G

60 (80)
73
45
39
49
30
55
Unlock: Complete Campaign Mission 07, "Front Line".
Aircraft Price: Ƶ 11,200
Special Weapon: UGB x14
A-10A Thunderbolt II (ATTACKER)
Also called the "Thunderbolt II" this ground attack fighter is well equiped for its role with a large Gatling gun and tough armour to withstand enemy fire.
MSSL
SPD
MOB
STA
DEF
A2A
A2G

64 (82)
39
34
65
94
17
74
Unlock: Complete Campaign Mission 07, "Front Line".
Aircraft Price: Ƶ 13,800
Special Weapon: XAGM x14
YA-10B (ATTACKER)
A modified A-10, with enhanced radar equipment for night and adverse weather missions. Its forward airframe has changed significantly to accomodate the added components.
MSSL
SPD
MOB
STA
DEF
A2A
A2G

74 (88)
39
59
83
99
37
93
Unlock: Fill the A-10A's Kill Rate gauge.
Aircraft Price: Ƶ 20,000
Special Weapon: FAEB x14
F-14A Tomcat (FIGHTER)
Large carrier-based air superiority fighter, known as the "Tomcat". Its variable sweep wing adjusts automatically to provide excellent mobility at both high and low speeds.
MSSL
SPD
MOB
STA
DEF
A2A
A2G

68 (84)
68
46
56
59
72
26
Unlock: Complete Campaign Mission 09, "Lit Fuse".
Aircraft Price: Ƶ 14,800
Special Weapon: SAAM x10
F-14B Bombcat (ATTACKER)
This carrier-based aircraft brings air-to-ground capabilities to the F-14A. Nicknamed "Bombcat," its already impressive payload capacity has been significantly enhanced.
MSSL
SPD
MOB
STA
DEF
A2A
A2G

70 (86)
78
54
61
60
47
61
Unlock: Fill the F-14A's Kill Rate gauge.
Aircraft Price: Ƶ 16,500
Special Weapon: GPB x12
F-14D Super Tomcat (FIGHTER)
This carrier-based F-14 features upgrades in radar and weapon control systems. Aptly called the "Super Tomcat," the F-14D can handle multiple enemies at once.
MSSL
SPD
MOB
STA
DEF
A2A
A2G

72 (86)
87
58
64
61
81
35
Unlock: Fill the F-14B's Kill Rate gauge.
Aircraft Price: Ƶ 17,800
Special Weapon: XLAA x14
Tornado GR.1 (ATTACKER)
This attack aircraft is also known as the "Tornado." Its compact size, along with low-level maneuverability, helps improve its survivability by avoiding enemy fire.
MSSL
SPD
MOB
STA
DEF
A2A
A2G

68 (84)
63
40
63
90
27
73
Unlock: Complete Campaign Mission 09, "Lit Fuse".
Aircraft Price: Ƶ 15,000
Special Weapon: BDSP x10
Tornado GR.4 (ATTACKER)
The weapons control system of the Tornado GR.1 has been modernized to improve survivability, maintainability and ease of use, resulting in a refined attack aircraft.
MSSL
SPD
MOB
STA
DEF
A2A
A2G

72 (86)
63
51
71
92
37
82
Unlock: Fill the Tornado GR.1's Kill Rate gauge.
Aircraft Price: Ƶ 18,700
Special Weapon: SOD x12
Tornado F.3 (FIGHTER)
A variant of Tornado GR.1 with a focus on air superiority. The fuselage is also extended to accomodate an intercept radar that tracks multiple target simultaneously.
MSSL
SPD
MOB
STA
DEF
A2A
A2G

68 (84)
73
59
60
91
74
37
Unlock: Fill the Tornado GR.1's Kill Rate gauge.
Aircraft Price: Ƶ 16,500
Special Weapon: XMAA x10
Tornado ECR (JAMMER)
An electronic warfare aircraft based on the Tornado GR.1. This plane has a vital role of protecting its squadron from enemy threat using its radar jamming capabilities.
MSSL
SPD
MOB
STA
DEF
A2A
A2G

70 (86)
68
67
69
80
59
63
Unlock: Fill the Tornado GR.1's Kill Rate gauge.
Aircraft Price: Ƶ 19,000
Special Weapon: ECMP x5
MiG-31 Foxhound (FIGHTER)
This aircraft was developed to intercept oncoming enemy planes at high speeds. Codenamed "Foxhound," its design is better suited for high-speed, one-pass attacks rather than dogfights.
MSSL
SPD
MOB
STA
DEF
A2A
A2G

70 (86)
97
53
49
85
77
30
Unlock: Complete Campaign Mission 09, "Lit Fuse".
Aircraft Price: Ƶ 14,300
Special Weapon: SAAM x14
MiG-31M Foxhound (FIGHTER)
A redeveloped MiG-31, with sweeping improvements. Modified exhaust nozzles support increased engine power, and flight controls have gone digital. Radar and weapon control have also improved.
MSSL
SPD
MOB
STA
DEF
A2A
A2G

74 (88)
97
63
56
87
84
37
Unlock: Fill the MiG-31's Kill Rate gauge.
Aircraft Price: Ƶ 18,400
Special Weapon: XLAA x14
F-15C Eagle (FIGHTER)
Nicknamed the "Eagle", this air superiority fighter boasts top-class maneuverability and superior payload capacity, as well as outstanding mission survivability.
MSSL
SPD
MOB
STA
DEF
A2A
A2G

70 (86)
83
54
61
60
73
37
Unlock: Complete Campaign Mission 12A, "Powder Keg".
Aircraft Price: Ƶ 16,200
Special Weapon: SAAM x10
F-15E Strike Eagle (ATTACKER)
Known as the "Strike Eagle," this F-15 variant is the ultimate attack aircraft, adding full-scale ground attack capabilities to its superior aerial combat ability.
MSSL
SPD
MOB
STA
DEF
A2A
A2G

76 (88)
73
55
77
75
42
87
Unlock: Fill the F-15C's Kill Rate gauge.
Aircraft Price: Ƶ 19,900
Special Weapon: SFFS x14
F-15S/MTD (FIGHTER)
An experimental aircraft with thrust vectoring nozzles and canard wings, developed to research air combat maneuverability. It performed so well in tests that it was deployed for actual combat.
MSSL
SPD
MOB
STA
DEF
A2A
A2G

80 (90)
83
89
81
66
94
58
Unlock: Fill the F-15C's Kill Rate gauge.
Aircraft Price: Ƶ 22,700
Special Weapon: XMAA x14
Su-27 Flanker (FIGHTER)
Codenamed "Flanker", this aircraft is one of the pinnacles of modern air superiority fighter technology. Its refined aerodynamics and powerful engines provide exceptional maneuverability.
MSSL
SPD
MOB
STA
DEF
A2A
A2G

72 (86)
73
57
55
61
74
38
Unlock: Complete Campaign Mission 12B, "Four Horsemen".
Aircraft Price: Ƶ 16,000
Special Weapon: SAAM x10
Su-32 Strike Flanker (ATTACKER)
A modified Su-27, called the "Strike Flanker." Specializing in long-range ground attack missions, this unique design includes a toilet and simple kitchen behind the pilot's seat.
MSSL
SPD
MOB
STA
DEF
A2A
A2G

80 (90)
63
67
79
78
51
96
Unlock: Fill the Su-27's Kill Rate gauge.
Aircraft Price: Ƶ 21,500
Special Weapon: XAGM x16
Su-35 Super Flanker (FIGHTER)
Canard wings and improved avionics have been added to the already agile Su-27, resulting in unmatched aerial combat capabilities befitting the name "Super Flanker".
MSSL
SPD
MOB
STA
DEF
A2A
A2G

80 (90)
83
85
73
66
93
56
Unlock: Fill the Su-27's Kill Rate gauge.
Aircraft Price: Ƶ 21,200
Special Weapon: XLAA x14
Su-37 Terminator (FIGHTER)
This fighter is an improvement over the SU-35. Its rearward facing radar and thrust vectoring give it unprecedented dogfighting capabilities. Also known as "Terminator."
MSSL
SPD
MOB
STA
DEF
A2A
A2G

82 (92)
83
93
76
66
96
59
Unlock: Fill the Su-35's Kill Rate gauge.
Aircraft Price: Ƶ 23,700
Special Weapon: QAAM x14
F-117A Nighthawk (ATTACKER)
Nicknamed the "Nighthawk," this attack aircraft employs cutting-edge stealth technology to avoid radar detection, at the cost of maneuverability and weapon load.
MSSL
SPD
MOB
STA
DEF
A2A
A2G

54 (78)
39
38
81
75
39
91
Unlock: Complete Campaign Mission 15, "White Noise".
Aircraft Price: Ƶ 20,100
Special Weapon: GPB x16
JAS-39C Gripen (MULTIROLE)
The JAS designation stands for "fighter," "attack," and "recon," denoting its multirole capabilities. The "Gripen" also boasts low cost and high maneuverability.
MSSL
SPD
MOB
STA
DEF
A2A
A2G

68 (84)
78
68
61
60
40
75
Unlock: Complete Campaign Mission 15, "White Noise".
Aircraft Price: Ƶ 17,900
Special Weapon: RCL x12
Typhoon (FIGHTER)
Air superiority fighter developed by an international collaboration. Computer controlled operation of its control surfaces give it exceptional agility at both supersonic and subsonic speeds.
MSSL
SPD
MOB
STA
DEF
A2A
A2G

78 (90)
86
85
69
65
91
54
Unlock: Complete Campaign Mission 16A, "Desert Arrow".
Aircraft Price: Ƶ 21,500
Special Weapon: XLAA x14
Rafale M (MULTIROLE)
A multirole, carrier-based aircraft characterized by its delta wing and canards. A well-balanced plane that can handle a wide range of missions. Its name loosely translates to "Squall".
MSSL
SPD
MOB
STA
DEF
A2A
A2G

74 (88)
71
79
68
63
50
84
Unlock: Complete Campaign Mission 16B, "Desert Lightning".
Aircraft Price: Ƶ 21,200
Special Weapon: LASM x14
Rafale B (MULTIROLE)
A lightweight variant of the Rafale, modified for the Air Force. Having 80 percent structural commonality with the Rafale M keeps development costs down.
MSSL
SPD
MOB
STA
DEF
A2A
A2G

76 (88)
71
81
70
65
51
86
Unlock: Fill the Rafale M's Kill Rate gauge.
Aircraft Price: Ƶ 20,800
Special Weapon: SOD x14
F-35C Lightning II (MULTIROLE)
This versatile and lightweight carrier-based stealth fighter features both air-to-air and air-to-ground attack capabilities while maintaining a low production cost.
MSSL
SPD
MOB
STA
DEF
A2A
A2G

76 (88)
68
87
79
66
57
91
Unlock: Complete Campaign Mission 16A, "Desert Arrow".
Aircraft Price: Ƶ 20,500
Special Weapon: LASM x14
YF-23A Black Widow II (FIGHTER)
Nicknamed the "Black Widow II," this supersonic stealth fighter is known for its unique design, which achieves minimal air resistance and radar reflectivity.
MSSL
SPD
MOB
STA
DEF
A2A
A2G

80 (90)
83
83
80
66
94
58
Unlock: Complete Campaign Mission 16B, "Desert Lightning".
Aircraft Price: Ƶ 22,500
Special Weapon: QAAM x12
F/A-22A Raptor (FIGHTER)
With a combination of stealth capabilities and superior maneuverability of its thrust vectoring nozzles, the "Raptor" lives up to its name as the ultimate air superiority fighter.
MSSL
SPD
MOB
STA
DEF
A2A
A2G

82 (92)
83
88
82
66
96
59
Unlock: Complete Campaign Mission 17, "Journey Home", or complete any branch of Arcade Mode.
Aircraft Price: Ƶ 24,000
Special Weapon: XMAA x16
FB-22 Concept (ATTACKER)
A concept attack aircraft based on the F/A-22. Not as capable in aerial combat, but its improved stealth technology and larger payload enable unprecedented air-to-ground attack capabilities.
MSSL
SPD
MOB
STA
DEF
A2A
A2G

82 (92)
73
73
89
78
54
99
Unlock: Fill the F/A-22A's Kill Rate gauge.
Aircraft Price: Ƶ 24,800
Special Weapon: SOD x18
Su-47 Berkut (FIGHTER)
The "Berkut" is characterized by the forward-swept wings that enable very sharp turns. Stability is maintained by electronically controlled canard wings, making this a preeminent fighter aircraft.
MSSL
SPD
MOB
STA
DEF
A2A
A2G

82 (92)
83
91
75
66
96
59
Unlock: Complete Campaign Mission 17, "Journey Home".
Aircraft Price: Ƶ 23,100
Special Weapon: SAAM x14
S-32 (FIGHTER)
A prototype of the Su-47. Despite its outstanding maneuverability, development was discontinued. Its potential as an extraordinary fighter is limited only by the skill of its pilot.
MSSL
SPD
MOB
STA
DEF
A2A
A2G

82 (92)
73
98
64
67
97
60
Unlock: Fill the Su-47's Kill Rate gauge.
Aircraft Price: Ƶ 26,200
Special Weapon: QAAM x14
MiG-1.44 (MULTIROLE)
Demonstrator aircraft for the Multifunctional Frontline Fighter project. Large canards and thrust vectoring nozzles contribute to its outstanding AA capabilities.
MSSL
SPD
MOB
STA
DEF
A2A
A2G

80 (90)
76
96
70
61
64
88
Unlock: Complete Campaign Mission 25, "Heartbreak One".
Aircraft Price: Ƶ 23,900
Special Weapon: UGBL x18
Hawk (FIGHTER)
Originally developed as a training aircraft. It makes up for the limited weapons load with clean responsiveness and ease of control, making it an agile and capable fighter.
MSSL
SPD
MOB
STA
DEF
A2A
A2G

56 (78)
73
41
34
42
51
16
Unlock: Complete Campaign Mission 19, "Final Option".
Aircraft Price: Ƶ 5,000
Special Weapon: QAAM x6
X-02 Wyvern (MULTIROLE)
A pinnacle of Erusian [sic] military aviation technology, the "Wyvern" combines stealth with extraordinary agility, made possible by its unique variable geometry wings.
MSSL
SPD
MOB
STA
DEF
A2A
A2G

84 (92)
78
99
90
67
94
67
Unlock: Purchase at least one of every other aircraft in the game (not including the ADF-01 FALKEN).
Aircraft Price: Ƶ 39,700
Special Weapon: XLAA x14
ADF-01 FALKEN (FIGHTER)
Cutting-edge fighter aircraft incorporating the latest technologies developed by Grunder Industries. Its 360-degree view cockpit system gives its pilot an immense advantage in combat.
MSSL
SPD
MOB
STA
DEF
A2A
A2G

84 (92)
83
99
82
67
99
93
Unlock: Destroy the five secret hangars in Campaign Missions 12A, "Powder Keg"; 12B, "Four Horsemen"; 16A, "Desert Arrow"; 16B, "Desert Lightning"; and 27, "ACES".
Aircraft Price: Ƶ 826,000
Special Weapon: TLS x14
Unplayable
Removed
Footnotes
References