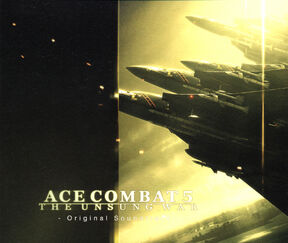 The Ace Combat 5: The Unsung War Original Soundtrack is the official soundtrack of Ace Combat 5: The Unsung War. It was commercially released by King Records in December 22, 2004 under the catalog code KICA-1346~9 at the price of 3,990 yen.
The soundtrack features many signature composers of the Namco Sound Team, including Tetsukazu Nakanishi, Keiki Kobayashi and Hiroshi Okubo, while also introducing new assets, such as Junichi Nakatsuru, Katsuro Tajima and the ACE COMBAT 5 Chorus Team. It contains varied music genres, shifting between techno-orchestral compositions, electro-rock and fully orchestrated cutscene music, setting the mood for the game's plot. The Unsung War is notable for being the first game in history to involve the Warsaw Philharmonic Orchestra, as well as for being the first to include licensed music, featuring Puddle of Mudd's "Blurry", which is used as the game's title theme. The soundtrack as a whole took Namco 3 years of development, making it the largest and most expensive soundtrack in the company's history.
Track listing
Disc 1
The first disc centers on the game's first half.
Title
Briefing 1
Hangar 1
Shorebirds
Open War ""Theme Of Open The War""
Wardog
Naval Blockade
First Flight (Arranged ACE COMBAT 04 ""Blockade"")
Rendezvous
Ballistic Missile
White Bird (Part I)
Front Line
Scinfaxi
Mother Goose 1
Lit Fuse
Blind Spot
8492
Chain Reaction
Reprisal
Powder Keg
Game Over
Shop
Disc 2
This disc mostly centers on the events from mission #13 through #20.
Menu
Four Horsemen
Demons Of Razgriz
Hrimfaxi
Ice Cage
White Noise
Desert Arrow
Desert Lightning
Free Flight
Supercircus
Into The Dusk
Fortress
Mask
Final Option
Ancient Walls
Failed Game Over
Result
Tutorial Main
Tutorial Menu
Tutorial Result
Disc 3
The third disc centers on the events of the plot from mission #21 to the game's climax and closing in mission #27+, "The Unsung War".
Briefing 2
Hangar 2
Solitaire
Closure
Ghosts Of Razgriz
White Bird (Part II)
Heartbreak One
Grabacr
The Journey Home (On Radio)
Wings Of Unity
Dead Ahead
Winter Storm
The Journey Home / The Warsaw Philharmonic (unused in-game)
Razgriz / The Warsaw Philharmonic (unused in-game)
Disc 4
The final disc contains the music from Operation Katina (Arcade Mode), alongside most of the game's cutscene compositions, including "Blurry" and a remix of Stephanie Cooke's "Blue Skies", the credits theme of Ace Combat 04: Shattered Skies.
Arcade Title
Arcade Menu
Arcade Stage Select
Arcade Briefing
Arcade Ripping Air
Arcade Knock You Down (Arranged ACE COMBAT 2 "Elemental Particle"
Arcade Elemental Particle 2
Arcade Broken Skies
Arcade Catch The Lightning
Arcade Riding High
Arcade Do or Die
Arcade Consequence
Arcade Game Over
Arcade Clear
Arcade Victory Road
Blue Skies (remix)
Razgriz ""ACE COMBAT 5 Main Theme""
Open The War
Sand Island
The Following Morning
15 Years Ago
A Blue Dove For The Princess ""Nagase's Theme""
OSEA
Blind Corridor
Fugitive Hope
New Emblem
President Harling
SOLG
Battleships Uprising
Final Launch
Hope For Freedom
Unsung Heroes
Peace (Epilogue)
The Journey Home ""ACE COMBAT 5 Ending Theme""
BLURRY / PUDDLE OF MUDD
Gallery
Trivia