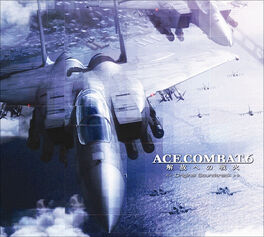 The Ace Combat 6: Fires of Liberation Original Soundtrack was commercially released by King Records in November 21, 2007 under catalog code KICA-1451~3.
The soundtrack contains compositions from Namco Sound Team members Tetsukazu Nakanishi (the only long-lasting Project Aces composer involved), Keiki Kobayashi (composing the "stars" of the soundtrack, such as "The Liberation of Gracemeria"), Junichi Nakatsuru and Hiroshi Okubo, the latter composing a small number of songs, not unlike their efforts in Ace Combat Zero: The Belkan War. Joining the team was Soulcalibur composer Ryuchi Takada, who took the role of cutscene BGM composer.
Towards the end of the development deadline, Keiki Kobayashi traveled to London, England to produce "Chandelier" and "A Brand New Day."
Track listing
Disc 1
ACE COMBAT 6 MAIN THEME (3:21)

START UP (0:55)

CAMPAIGN MENU 1 (3:07)

BRIEFING 1 (1:57)

SORTIE 1 (1:28)

INVASION OF GRACEMERIA (5:13)

THROUGH THE HEART OF A NATION (2:42)

THE BROKEN BRIDGE (0:37)

THE WARTIME EVACUATION (1:57)

BEING LEFT BEHIND (1:35)

THE MAN WHO HAS BROKEN WINGS (1:15)

THE EMPTY CASTLE (0:52)

TOWARD REVIVAL (2:59)

VITOZE AERIAL DEFENSE (3:17)

SIPLI FIELD (4:42)

BARTOLOMEO FORTRESS (3:39)

ECHOES OF BATTLE (4:13)

ANEA LANDING (4:21)

MELISSA AND LUDMILA (1:43)

SIEGE ON SILVAT (5:09)

HIS ANALYSIS (0:42)


RESULT (1:33)
Disc 2
CAMPAIGN MENU 2 (0:45)

BRIEFING 2 (2:01)

SORTIE 2 (1:36)

SELUMNA PEAK (5:29)

ON THE FIELD OF EMMERIA (2:24)

SAN LOMA ASSUAULT (4:26)

HEAVY COMMAND CRUISER (2:01)

THE DEAD SEA (4:47)

VOYCHEK AND PASTERNAK (0:52)

RAGNO FORTRESS (6:11)

THE SUN, THE SKY AND MY GIRL (2:17)

THE MOLOCH DESERT (4:17)

THE CASTLE AND THE UNDERPASS (2:01)

SORTIE 3 (1:50)

WEAPONS OF MASS DESTRUCTION (3:53)

BOILING POINT (3:00)

FIRES OF LIBERATION (2:26)

THE ANCIENT TRAP DOOR (0:23)

ARMED HOMETOWN (0:34)

THE HIDING AND THE BRIEFCASE (0:29)

GAME OVER (0:15)

ON LINE (3:00)

MISSION FAILED (0:15)


ON LINE MENU (1:47)
Disc 3
HANGAR (1:39)

THE LIBERATION OF GRACEMERIA (7:18)

MALEBOLGE (3:51)

BRIEFING 3 (2:00)

SORTIE 4 (1:45)

GRACEMERIA PATROL (2:46)

CITY LIGHTS (3:45)

THE FACT (1:35)

LUDMILA (2:18)

BRIEFING 4 (1:52)

SORTIE 5 (1:55)

CHANDELIER - Trinity Boys Choir (4:07)

GAME CLEAR (1:27)

A WEDDING IN THE FILED OF THE CAGE (1:29)

HOME (1:50)


ACE COMBAT 6 ENDING THEME (A BRAND NEW DAY) - Trinity Boys Choir (4:38)