m

m (Changed Ten Million Relief Plan image to a newer version)

(36 intermediate revisions by one other user not shown)
Line 1:
Line 1:
−

[[File:F-4E AC7 Flyby 2.jpg|thumb|300px|The F-4E, a pre-order-exclusive DLC aircraft]]

+

[[File:F-4E AC7 Flyby 2.jpg|thumb|300px|The F-4E, DLC aircraft]]

−

''[[Ace Combat 7: Skies Unknown]]'' features '''downloadable content''' ('''DLC''') that add to the base game's contents. These DLCs include aircraft, skins, and missions. All prices below are listed in U.S. dollars.

+

''[[Ace Combat 7: Skies Unknown]]'' features '''downloadable content''' ('''DLC''') that aircraft, and .

 
 
−

==Bundles==

+

====

 
+

[[File:AC7 Season Pass PlayStation Store Image.jpg|thumb|250px]]

−

*'''[[Season Pass]] ($24.99;{{Ref|SeasonPassPrices|https://www.bandainamcoent.com/news/pre-order-season-pass-and-deluxe-edition-offers-confirmed-for-take-off}} included in some [[Ace Combat 7: Skies Unknown#Editions|special editions]])'''

 
−

*:Includes three original aircraft and three missions at a small discount compared to buying them individually. Also includes the [[Music Player]] as an exclusive bonus.{{Ref|4gamer|https://www.4gamer.net/games/369/G036985/20180915001/}}

+

at a discount compared to buying them individually:

 
+

*'''[[ADF-11F Raven Set]]'''

 
+

*'''[[ADF-01 FALKEN Set]]'''

 
+

*'''[[ADFX-01 Morgan Set]]'''

 
+

*'''[[Unexpected Visitor]]'''

 
+

*'''[[Anchorhead Raid]]'''

 
+

*'''[[Ten Million Relief Plan]]'''

 
 
 
+

The Season Pass also grants access to the [[Music Player]], which cannot be accessed otherwise.{{Ref|4gamer|https://www.4gamer.net/games/369/G036985/20180915001/}}

−

<gallery hideaddbutton="true">

 
 
+

{{Clear}}

−

AC7 Season Pass Cover.jpg|link=Season Pass|Season Pass

 
 
+

==Missions==

−

</gallery>

 
 
+

In all three of these missions, the player controls [[Trigger]] during a part of the [[Lighthouse War]]: between the campaign missions "[[Bunker Buster]]" and "[[Cape Rainy Assault]]".

 
 
 
+

<gallery hideaddbutton="true" bordersize="none" columns="3" widths="215" spacing="small">

−

==Aircraft==

 
 
+

Unexpected Visitor Store Image.jpg|link=Unexpected Visitor|'''[[Unexpected Visitor]]'''<br>''Included in Season Pass''

−

*'''[[F-4E Phantom II]] (exclusive to pre-orders and launch editions)'''

 
 
+

Anchorhead Raid Store Image.jpg|link=Anchorhead Raid|'''[[Anchorhead Raid]]'''<br>''Included in Season Pass''

−

*:A low-tier aircraft featured in most games in the ''[[Ace Combat]]'' franchise.

 
 
+

Ten Million Relief Plan Store Image.jpg|link=Ten Million Relief Plan|'''[[Ten Million Relief Plan]]'''<br>''Included in Season Pass''

−

*'''Three original aircraft ($4.99 each;{{Refcall|SeasonPassPrices}} included in Season Pass)'''

 
−

*:Three original aircraft are planned to be released after the game's launch.{{Refcall|4gamer}}

 
−
 
−

<gallery hideaddbutton="true">

 
−

F-4E AC7 Flyby 1.jpg|F-4E Phantom II

 
 

</gallery>

 

</gallery>

 
+

{{Clear}}

 
 
−

==Missions==

+

====

 
+

<gallery hideaddbutton="true" bordersize="none" columns="4" widths="160" spacing="small">

−

*'''Three missions ($4.99 each;{{Refcall|SeasonPassPrices}} included in Season Pass)'''

 
 
+

AC7 F-4E Phantom II + 3 Skins Pack Icon - AS PS Store.jpg|link=F-4E Phantom II + 3 Skins|'''[[F-4E Phantom II + 3 Skins]]'''

−

*:Three missions are planned to be released after the game's launch.{{Refcall|4gamer}}

 
 
+

ADF-11F Raven Set Store Image.png|link=ADF-11F Raven Set|'''[[ADF-11F Raven Set]]'''<br>''Included in Season Pass''

−
 
 
+

ADF-01 FALKEN Set Store Image.png|link=ADF-01 FALKEN Set|'''[[ADF-01 FALKEN Set]]'''<br>''Included in Season Pass''

−

==Aircraft Skins==

 
 
+

ADFX-01 Morgan Set Store Image.png|link=ADFX-01 Morgan Set|'''[[ADFX-01 Morgan Set]]'''<br>''Included in Season Pass''

−

Aircraft skins can only be used on aircraft that the player has already unlocked in the game.

 
−
 
−

*'''[[F-104C -Avril-]] (exclusive to digital copies)'''

 
−

*:An [[F-104C Starfighter]] skin based on [[Avril Mead]]'s self-built, unarmed F-104C. Due to being unarmed, players can only fly with this skin in [[Free Flight]].

 
−

*'''[[Su-37 -Yellow13-]] (exclusive to pre-orders and launch editions)'''

 
−

*:An [[Su-37 Terminator]] skin based on [[Yellow 13]], the main antagonist of ''[[Ace Combat 04: Shattered Skies]]''.

 
−

*'''[[F-14D -Razgriz-]] (exclusive to pre-orders and launch editions)'''

 
−

*:An [[F-14D Super Tomcat]] skin based on [[Razgriz Squadron]], the player's squadron at the end of ''[[Ace Combat 5: The Unsung War]]''. The aircraft number is the player character [[Blaze]]'s number, 016.

 
−

*'''[[F-15C -Pixy-]] (exclusive to pre-orders and launch editions)'''

 
−

*:An [[F-15C Eagle]] skin based on [[Larry Foulke]], the player's first wingman in ''[[Ace Combat Zero: The Belkan War]]''.

 
−
 
−

<gallery hideaddbutton="true" navigation="true">

 
⚫
 
−

AC7 Su-37 -Yellow13- Flyby.jpg|link=Su-37 -Yellow13-|Su-37 -Yellow13-

 
−

AC7 F-14D -Razgriz- Flyby.jpg|link=F-14D -Razgriz-|F-14D -Razgriz-

 
−

AC7 F-15C -Pixy- Flyby.jpg|link=F-15C -Pixy-|F-15C -Pixy-

 
 

</gallery>

 

</gallery>

 
+

{{Clear}}

−
 
−

==Other==

+

==Other==

 
+

<gallery hideaddbutton="true" bordersize="none" columns="4" widths="160" spacing="small">

−

*'''[[Music Player]] (exclusive to Season Pass)'''

 
 
⚫
−

*:An in-game menu option that allows players to listen to the game's soundtrack.

 
 
+

8 Popular Squadron Emblems.jpg|link=8 Popular Squadron Emblems|'''[[8 Popular Squadron Emblems|8 Popular Sq. Emblems]]'''

−
 
 
⚫
−

<gallery hideaddbutton="true">

 
 
+

AC7 VR Emblem DLC Bundle.jpg|link=Bonus Emblem Set|'''[[Bonus Emblem Set]]'''<br>''Free''

⚫
 
 

</gallery>

 

</gallery>

 
 
---
Revision as of 07:35, 27 November 2019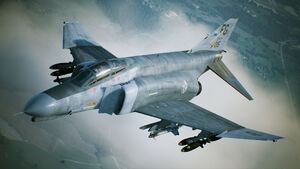 Ace Combat 7: Skies Unknown features downloadable content (DLC) that adds new missions, aircraft, and more to the base game for an additional cost.
Season Pass
Purchasing the Season Pass grants access to all of the following DLC at a discount compared to buying them individually:
The Season Pass also grants access to the Music Player, which cannot be accessed otherwise.[1]
Missions
In all three of these missions, the player controls Trigger during a part of the Lighthouse War: between the campaign missions "Bunker Buster" and "Cape Rainy Assault".
Aircraft Sets
Other DLCs
References
Community content is available under
CC-BY-SA
unless otherwise noted.