Raise a Floppa - The Loop
Play Sound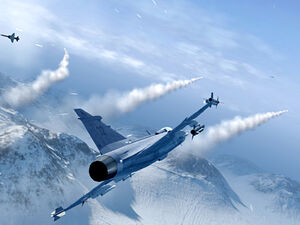 The Advanced Long-Range Air-to-Air Missile (abbreviated as XLAA) is a weapon first introduced in Ace Combat 04: Shattered Skies, and it has returned in many subsequent games. It is capable of locking on to up to four targets at once, and boasts incredible lock-on range.
Game Analysis
Ace Combat: Joint Assault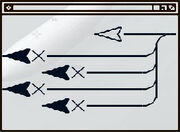 "Air-to-air missile with very long range that can be fired at up to four air targets simultaneously."
― Hangar
Cost
The XLAA costs 70 credits per use.
Aircraft
Gallery
Ace Combat 6: Fires of Liberation
"Able to lock-on to multiple targets, the XLAA boasts the longest range and greatest speed of all missile types, but at a slight cost to targeting performance. Boasting a powerful radar system and long range, the XLAA is capable of preemptively striking multiple targets from beyond visual range. The missile's high price is the only prohibitive factor when considering its use."
― Hangar
Gallery
Ace Combat X: Skies of Deception
"Air-to-air missile with very long range that can be fired at up to four air targets simultaneously."
― Hangar
Aircraft
Ace Combat Zero: The Belkan War
"Air-to-air missile with very long range that can be fired at up to four air targets simultaneously."
― Hangar
Aircraft
Gallery
Ace Combat 5: The Unsung War
"Air-to-air missile with very long range that can be fired at up to four air targets simultaneously."
― Hangar
Aircraft
Ace Combat 04: Shattered Skies
"Advanced Long-Range Air-to-Air Missile: capable of hitting up to four targets at once. Great long-range weapon."
― Hangar
Aircraft
References