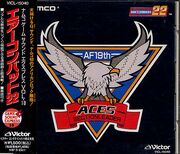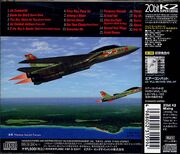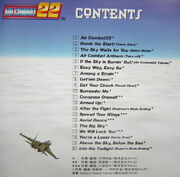 The Namco Game Sound Express VOL.18 Air Combat 22 is a compilation of music from the arcade title Air Combat 22. It was released by Victor Entertainment in May 24, 1995 under the catalog code VICL-15040. The game's music consists on retro rock music, standard for the PS1 era, composed by Keiichi Okabe, Kazuhiro Nakamura and Hiroyuki Kawada.
The album opens with a series of fanfares. While acceptable in-game and quite catchy, they reveal right away the biggest problem of the score. Even when looped, the tracks tend to be very short, ranging from 20 to 90 seconds. This adds up to a mere 20:16 playtime altogether. Furthermore, most of the tracks feature voice-overs.
The main theme "If the Sky is Burnin' Out" reflects the rock-based approach to the score. Kazuhiro Nakamura adopts a straightforward approach of using a few rhythm guitar power chords and adding a few keyboard chord progressions to create an illusion of substance.
Composed, Arranged and Performed by
Kazuhiro Nakamura (1~6,8~10,12,13,16,18~20)
Keiichi Okabe (2,7,11)
Hiroyuki Kawada (14,15,17)
Namco Aerial Forces (all)
Track listing
1 CD - 20 tracks - 00:20:29
01. Air Combat 22 - 00:10
02. Bomb the Start! (Game Start) - 00:05
03. The Sky Waits for You (Select Mode) - 00:24
04. Air Combat Anthem (Take Off) - 01:02
05. If the Sky is Burnin' Out! (Air Combat 22 Theme) - 01:28
06. Easy Way, Easy Go - 01:27
07. Among a Strain - 00:33
08. Get 'em Down! - 01:09
09. Get Your Check (Round Clear) - 00:30
10. Surrender Me - 01:20
11. Compose Oneself - 01:16
12. Armed Up! - 00:45
13. After the Fight (Beginner's Mode Ending) - 01:25
14. Spread Your Wings - 01:29
15. Aerial Dance - 01:43
16. The Big Sky - 01:17
17. We Will Lock You - 01:30
18. You're a Loser (Game Over) - 00:12
19. Above the Sky, Below the Sea - 01:26
20. Into the Twilight (Expert's Mode Ending) - 01:18