Air Power Directory was a special FRONT LINE issue published in September 20, 2007. It focused on the emblems of Erusea and ISAF.[1] Below is the site's English translation of the original text.[2]
Introduction
"FRONT LINE" AIR POWER DIRECTORY
September 20, 2007
During the previous "Continental War", military forces of all nations created insignia that became symbols of pride and valor. Although merely a piece of material, each badge tells a story and encompasses the history of all the men and women who wear it proudly. 
ISAF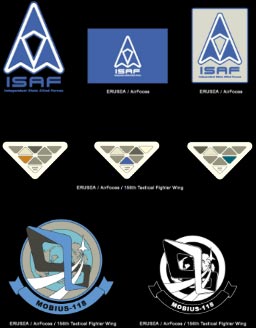 TOP ROW
Official badges used by the ISAF (Independent State Allied Forces). Commonly known as "Arrowhead" or "Three Arrowheads".
CENTER ROW  
These are the official badges used by the ISAF AIRFORCE, NAVY and ARMY. The coloring of the badge designates which branch the wearer belongs to. 
BOTTOM ROW
"MOBIUS"- No further information.
Erusea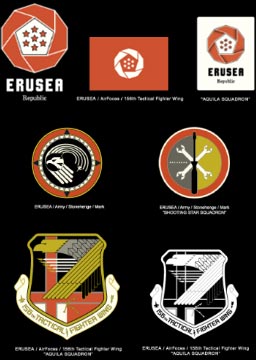 TOP ROW
Various badges and insignia used by the Erusean forces.
CENTER ROW
Left: Ace Commemoration Badge
Right: Ground Crew Badge
BOTTOM ROW
Both decals shown are from the Erusean Air Force's 156th fighter squadron, more commonly known as "Yellow Squadron".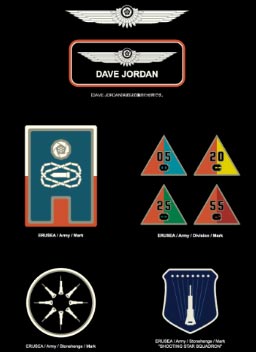 TOP ROW
On top is the standard Air Force insignia, and below is the standard name badge (with name engraved).
CENTER ROW
Erusian [sic] Army Badge and badges from the 5th, 20th, 25th and 55th Armored Divisions.
BOTTOM ROW
Nothing is known about this "Shooting Star" insignia.
Trivia
On the Japanese article, the Erusian [sic] Army Badge description included a note that "Mechazukin" was a popular character on Erusean armored division patches. The Mechazukin Corps was the antagonist faction in Namco's Sky Kid video game.
The bottom of the cover of the magazine reads "118 Squadron, Royal Air Force". "118" is the number of Mobius Squadron. This could imply that the squadron is based from a country with a monarchy.
References
Community content is available under
CC-BY-SA
unless otherwise noted.