Axel Bay is a body of water on the southern Usean continent. It is located southeast of Gunther and west of Chopinburg. The waterway is directly connected to Gunther Bay.
The name "Axel Bay" is also used for an industrial port city in the bay.
History
During the Nemo simulation, an industrial city in Axel Bay was threatened when Ouroboros sent the UI-4052 Crailas airship, equipped with a bio-chemical weapon, to descend upon the city. The Universal Peace Enforcement Organization dispatched pilots to destroy the city's bridges and chimneys in the airship's path. The airship subsequently crashed into the water, preventing any civilian casualties.[1] Since these events were simulated, it is not confirmed if they actually happened.
Gallery
Trivia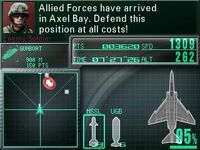 References
Community content is available under
CC-BY-SA
unless otherwise noted.