Line 47:
Line 47:
 
 
 

==Trivia==

 

==Trivia==

−

The tail code DY is applied to the bombers of the 7th Bomb Wing (7 BW), Dyess Air Force Base.

+

The tail code DY is applied to the bombers of the 7th Bomb Wing (7 BW), Dyess Air Force Base.

 

[[Category:Aircraft]]

 

[[Category:Aircraft]]

 

[[Category:Playable Aircraft]]

 

[[Category:Playable Aircraft]]
---
Revision as of 06:40, 22 October 2014

The Rockwell B-1B Lancer is an strategic swing-wing bomber aircraft. The succesor of the B-1A, whose development was cancelled in 1977 and revived under the Reagan administration, it failed in its task to entirely replace the B-52 Stratofortress bomber, managing to replace only the outdated B-52G variant and the F-111 Aardvark.
Air Combat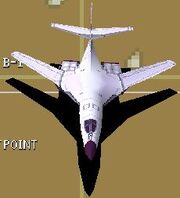 In Air Combat, the B-1B Lancer is an strategic bomber aircraft used by the coup d'état forces.
Three Lancers are featured in mission #08, "Destroy Enemy Staging Zone", where they are part of the rebel bomber formation threatening to raze Donet City. A fourth, lone B-1B is featured in mission #10, "Repel Enemy from Captured Port". The B-1s featured in the game, notably enough, appear to use the paint scheme of the prototype B-1A.
Ace Combat 2
In Ace Combat 2, the B-1 is a bomber aircraft operated by the Usean Rebel Force and Unified Command. Two URF Lancers appear as targets in mission #01, "Gambit". Four allied B-1s are featured in the seventh mission, "Sledgehammer", wherein they must be protected by the player as they bomb a rebel port.
Ace Combat 3
In Ace Combat 3: Electrosphere, two B-1C's appear in the japanese UPEO mission "Broken Truce" as GRDF units came to bombard the UPEO airfield. The B-1C seems to have a integrated COFFIN system and improved engines.
Ace Combat 5: The Unsung War
In Ace Combat 5: The Unsung War, the B-1B Lancer is a swing-wing bomber operated by the Yuktobanian Air Force. It is featured in mission #04, "First Flight", wherein several of them perform a bombing raid on Sand Island.
Ace Combat: Assault Horizon
In Ace Combat: Assault Horizon, the B-1B Lancer is an strategic bomber operated by Task Force 108. In Campaign mode, it is featured in mission #11, "Launch", wherein Janice Rehl and her copilot must infiltrate a radar-protected area in the Caucasus to stop New Russian Federation forces from launching ICBMs. It is one of the two available bombers for the mission, the other being the B-2A Spirit.
The Lancer, in gameplay, has better stats than the Spirit, although the former has a slightly lower defense value. As well, it carries 320 MUGBs and 218 GPBs, compared to the 264/180 payload of the B-2A. In gameplay, the Lancer is capable of engaging Air Strike Mode (ASM). It is available in capital conquest online once the frendly HQ has suffered major damage.
Skins
Skin 1: Basic grey colour with USAF markings.
Skin 2: Camouflage pattern with USAF markings.
Ace Combat Infinity
4 B-1B Lancer bombers spawn in pairs as targets together with howitzers when the pillboxes are destroyed after checkpoint in campaign mission Operation Bunker Shot.
Trivia
The tail code DY is applied to the bombers of the 7th Bomb Wing (7 BW), Dyess Air Force Base.