watch 03:19
Wiki Targeted (Games)
Play Sound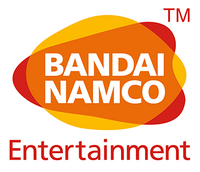 Bandai Namco Entertainment Inc.,[a] officially stylized as BANDAI NAMCO Entertainment Inc. and often shortened to Bandai Namco, is a video game developer and publisher based in Tokyo, Japan. Bandai Namco is the product of a 2006 merge between Bandai, a toy manufacturer, and Namco, a video game developer.
Bandai Namco's video game development teams are collectively named Bandai Namco Studios. In addition to the core development studio in Tokyo, the company has development studios in Singapore and Vancouver, British Columbia, Canada.[1]
In the United States and Europe, video game publishing is handled by subsidiary companies: Bandai Namco Entertainment America Inc. and Bandai Namco Entertainment Europe S.A.S., respectively.
Along with the Ace Combat franchise, Bandai Namco is known for developing the Tales, Soul, Tekken, Pac-Man, and Ridge Racer franchises.
History
Prior to the 2006 merge, all games currently owned by the company were published solely by Namco. Immediately following the merge, the company was known as Bandai Namco Games Inc. (with variants on the name for its respective subsidiaries). In April 2015, the company renamed to Bandai Namco Entertainment.
Ace Combat
All Ace Combat games up to and including Ace Combat 5: The Unsung War were published by Namco. Following the merge, all games in the franchise from Ace Combat Zero: The Belkan War up to and including Ace Combat Infinity were published by Bandai Namco Games. Following the April 2015 name change, Ace Combat Infinity was updated to use the new Bandai Namco Entertainment name. Ace Combat 7: Skies Unknown will be the first Ace Combat game to be initially published under this new name.
Since 2001, an internal development team within Bandai Namco has been credited for developing the Ace Combat games. The team was known as "The AC04 Project" for Ace Combat 04: Shattered Skies, but was later renamed to Project Aces for Ace Combat 5: The Unsung War and all subsequent games, persisting through the merge and name changes.
Gallery
Trivia
Footnotes
↑ Bandai Namco Entertainment Inc. (株式会社バンダイナムコエンターテインメント Kabushiki Gaisha Bandai Namuko Entāteinmento)
References
Community content is available under
CC-BY-SA
unless otherwise noted.