All right, gentlemen, it's time to clean house!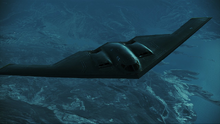 A bomber is a military aircraft designed for destroying ground-based installations with heavy bomb or missile payloads. Bombers in the Ace Combat series feature immense ground-attack power as well as exemplary stability and defense. Bombers carry special weapons exclusive to their class, carrying bombs in place of standard missiles. Bombers also lack a machine gun and have no air-to-air capabilities whatsoever. They are extremely vulnerable to anti-air attack and fighters.
Bombers are only playable in Ace Combat: Assault Horizon and Ace Combat Infinity, and only two types are available for play.
The following is a list of playable bombers: