The C-130 Hercules is a tactical transport aircraft which has been featured in multiple Ace Combat titles. It made its series debut in Ace Combat 04: Shattered Skies, and has made sporadically appearances ever since.
History
Strangereal
During the Belkan War, both Belka and the Allied Forces used the Hercules on rare occasions. The Hercules' first known use was done by the Ustio Air Force during the liberation of Solis Ortus when they were carrying the Osean 101st and 122nd Airborne Divisions for a paradrop onto the city.[1] The first known Belkan use of the aircraft was done during Operation Cannibal when they were airlifting wounded personnel away from Hoffnung.[2] After Operation Ravage, Belkan remnant forces made good use of the Hercules before the Treaty of Lumen was signed.[3][4]
During the Continental War, both ISAF and Erusea operated the Hercules. One ISAF C-130 was stationed at the Comona Islands,[5] and one belonging to the FEAF was stationed at Istas Fortress along the Tango Line before being destroyed during Operation Woodpecker.[6] During the early stages of the 2006 Free Erusea uprising, a number of airframes were utilized by Free Erusea as their main transport aircraft before being replaced by the C-5 Galaxy.[7]
In the Circum-Pacific War, the Yuktobanian Air Force utilized the Hercules on a few occasions. It was notably used during the attack on the Basset Space Center, airdropping infantry fighting vehicles in one of the numerous attempts to stop the launch of the SSTO vehicle carrying a laser weapon module for the spacecraft Arkbird. They, alongside their payload, were shot down by the Wardog Squadron.[8] They were also used to transport the surviving personnel and equipment during the retreat from the Bastok Peninsula but were shot down by the same squadron from Basset.[9] A Hercules airframe was utilized during the Jilachi Desert Invasion but it was destroyed.[10]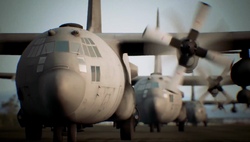 Free Erusea utilized a single unmanned C-130 to distract IUN forces during their second uprising. It was then shot down during Operation Sentry's Brunt.[11]
C-130s were fielded by the Osean Air Defense Force during the Lighthouse War. They were used to transport members of the Spare Squadron as well as 444th Air Base personnel to Tyler Island.[12]
Assault Horizon universe
A C-130 is used to transport William Bishop and the rest of Task Force 108 from Russia to Miami. [13]
Game Analysis
References