SPOILER WARNING -- FULL ARTICLE
Champ was an Osean Air Defense Force fighter pilot who flew as part of the 444th Fighter Squadron, Spare Squadron.
He seems to be very self-centred and shows little care for those around him.[1] During dogfights, he forgets about himself and ignores orders. He fires randomly as blood rises to his head, often being ridiculed as a chump.[2]
Biography
Champ flew as a member of the Spare Squadron during the Lighthouse War.
On July 4, 2019, Champ participated in Operation One Pair and assisted in crippling the Erusean base located in Roca Roja.[3]
Spare Squadron was sent in to help allied squadrons Cyclops and Strider break away from the airspace after they came under attack from Erusean MQ-99s. With the help of Trigger, the allied squadrons got out safely. However, after completing the operation, Champ was engaged by an Su-30SM piloted by Mihaly. He proceeded to dogfight with this new foe, ignoring orders from Bandog, and was quickly shot down by the old ace.[1]
Gallery
Trivia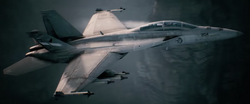 References