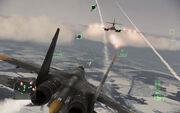 Countermeasures are defensive devices used by military aircraft to protect themselves from enemy missiles.
Overview
Aircraft countermeasures work by emitting a high heat output, equaling that of an aircraft engine, which cause heat-seeking missiles to confuse them for actual targets, thus leading them away from the aircraft that deployed them. The most frequently featured countermeasures in the Ace Combat series are the traditional defensive flares. Ace Combat: Joint Assault introduces the plasma-based Infrared Countermeasures as an special weapon.
Throughout the Ace Combat series, countermeasures have been mostly relegated to NPC use. For example, ace pilots, such as "Zipang" and "Decoder" from Ace Combat 5, the F-16XL of the Wizard Team from 32nd Tactical Fighter Squadron and the Grun Squadron from Ace Combat Zero employ flares to spoof the player's missiles. In Ace Combat 6, Strigon Team usues flares to spoof the player's missiles.
However, flares are finally made available in Ace Combat: Assault Horizon, wherein they are deployed by clicking the left stick. Most aircraft can carry a small amount of flares, topping at 6 with the PAK FA. For balancing purposes, bombers carry a supply of 99 flares.