EMERGENCY SEA STRIKE is a Special Raid mission in Ace Combat Infinity that only appears after completion of an Online Co-Op Mission. It takes place over Comona Base. Players must destroy as many ships as possible, with a few aircraft also appearing.
Briefing
The sea in the vicinity of the Comona Islands has been attacked by a hostile fleet. This region is the home of the Space Center, making it extremely important for our forces. We cannot allow the enemy to take control of it. Command is putting together a welcoming committee in response to this latest act of cowardice. We need you to sortie along with them and destroy the enemy naval presence in the vicinity.
Objectives
The mission is separated into three stages:
Large number of Gun Boats, Missile Boats, Tarantul-class corvettes, Aist class LCACs and a few Ivan Rogov-class landing ships.
Large number of Aist class LCACs, Ivan Rogov-class landing ships, Tarantul-class corvettes and Krivak-class frigates.
Large number of Zumwalt-class destroyers, Cassard-class frigates, Ticonderoga-class cruisers and Kirov-Class Cruisers, supported by three Nimitz-class aircraft carriers, a few of Su-27 Flankers and T-50 PAK-FAs.
The majority of enemy units have increased health, increased range, and increased firepower.
Recommend bring at least one ECM aircraft for this mission.
Players are tasked with destroying as many targets as possible before the timer runs out.
S Rank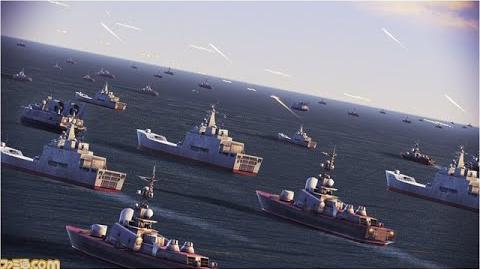 Score at least 380,000 points within the time limit.
Debriefings
A Rank
Your brave flying has successfully driven off the enemy naval forces.
Our forces suffered only minor damage and the surrounding facilities also made it through almost unscathed.
S Rank
You have proven that no enemy can stand against you, regardless of their numbers.
You have wiped out the large enemy fleet and secured the safety of the seas.
Gallery
Trivia
References
Ace Combat Infinity Missions
Campaign
Online Co-Op
Special Raids

Moby Dick Pursuit

STONEHENGE RETURNS

Satellite Interception
Excalibur Onslaught
Other

Team Deathmatch

Score
Naval Fleet Assault
Ring Battle
Community content is available under
CC-BY-SA
unless otherwise noted.