Easter eggs are intentional inside jokes or hidden messages scattered within various forms of media. The Ace Combat series contains a large number of Easter eggs within its games, typically referencing other Ace Combat games or Bandai Namco properties.
List of Easter eggs
Outside Easter eggs
Other franchises have made references to Ace Combat through Easter eggs in their media as well.
Ridge Racer
The Ridge Racer series repeatedly makes references to Ace Combat. Many games feature vehicles with custom decals of groups and technology, such as the ISAF and the Arkbird.
Tekken
In Tekken 6's scenario campaign mode, a number of CFA-44 Nosferatus can be seen parked in the G Security Service, Operations Headquarters stage.[2][3]
The Twilight Conflict stage in Tekken 7 features numerous aircraft from Ace Combat flying by: the Ka-50 Hokum, the T-50 PAK-FA (which is even carrying Trinity), and the CFA-44 Nosferatu.[4] The Arena in Tekken 7 also features a new General Resource Limited logo, previously only seen in Ace Combat 3: Electrosphere concept art.[5]
Battlefield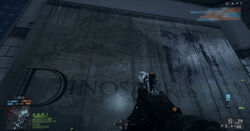 The old map of Strangereal is displayed as part of an advertisement for a dinosaur museum in Operation Métro, a DLC map in Battlefield 4.
Gamers!
In episode 1, a PS3-inspired game featured the title Base Combat with an aircraft resembling the MiG-29A Fulcrum on the foreground.
Just Cause 2
The G9 Eclipse strongly resembles the ADFX-01/02 Morgan and the X-02 Wyvern. Both planes feature similar designs from the Su-47 Berkut.
Sword Art Online
Advertisements for Ace Combat Infinity can be seen in the first scenes of episode 1 and 8 of Sword Art Online II anime.[6][7]
Taiko no Tatsujin
Several songs from the Ace Combat series are playable in the game itself, such as "In the Zone" from Joint Assault, "Night and Day" from Ace Combat 2, "Fighter's Honor" from Assault Horizon Legacy and recently Comona from Shattered Skies was announced as a playable song in Taiko no Tatsujin V Version for the PSVita.
In addition, the ASF-X Shinden II also appears as a guest character.
References
↑ Tekken 7 Character Trailer, Ace Combat Surprises. Reddit. Published January 28, 2016. Retrieved January 28, 2016.
Community content is available under
CC-BY-SA
unless otherwise noted.