This article is about the special weapon. For general uses of radar jamming, see electronic warfare.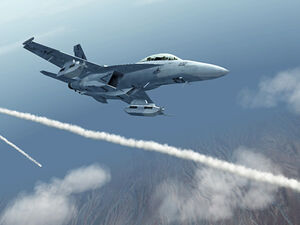 An Electronic Countermeasure (ECM) is a device that prevents enemy units from being able to lock on to a target. ECMs are widely used in the Ace Combat franchise by both enemies and allies. The player can even use ECMs by equipping a special pod to their aircraft in lieu of a special weapon. In the older games, this pod was referred to as a Electronic Counter Measure Pod (ECMP).
When the player engages ECM, all enemy missiles that were tracking the player will abruptly lose their lock, causing the missiles to fly straight at the last-locked vector. While the player is immune to enemy radar lock, enemy missiles can still cause damage; for example, if the player and an enemy missile are both at level flight, the missile can still hit and damage the player's aircraft. The ECM effect only lasts a few seconds, after which the player must re-engage it after the battery fully recharges.
Gameplay
Trivia
The Su-37 Terminator is typically depicted with ECM pods on its wingtips, but the player has never been able to use ECM on the Su-37.
References
Community content is available under
CC-BY-SA
unless otherwise noted.