Eugene Solano's Memoirs were two pieces of World News on the Ace Combat X: Skies of Deception ACES WEB site. They were written by Eugene Solano, describing the events of Skies of Deception and Standoff in the Skies II.[1]
This, alongside Standoff in the Skies II: Leasath Side, confirmed that Standoff in the Skies II and Ice Bound were the canon mission variants during the Aurelian War.
Skies of Deception
The below English translation was provided through Electrosphere.info.[2]
English Translation
To tell the truth, I had a hard time growing fond of the emblem of Gryphus Squadron. I couldn't help but feel that its design, a condor wearing a complacent smile, beefed up the atmosphere of a provincial base. It just wouldn't make me feel fit.
Located far away from foreign countries, Aubrey Base was mainly assigned maritime defense roles, but was not regarded as an important asset. I figured that was the reason why an inexperienced communications operator like me was stationed there. The sea air was everywhere as the base was surround by the ocean, and the weather was cold most of the year since it was in a high latitudes area. Back then, I always thought about leaving this base.
After a training, I often went to see aircraft, but there was no special reason for me doing so. It's just that there was nothing other than that to do to kill time. There were nothing but a small fishing village and a harbor within several tens kilometers around this base, so we didn't have to care about conducting trainings frequently. Having finished a training, 2nd Lt. Rick would often talk to me while I was watching aircraft aimlessly.
"Hey, rookie." He was always frank and kind of rude. He pointed to the emblem of Gryphus Squadron and tapped me a bit hard on the shoulder without caring about me feeling it hurt. "You were too diligent in today's training, as always. At this rate, you're gonna be laughed away by this cute Gryphus birdie. You better know how to relax and smile."
"You were inattentive, 2nd Lt. Heck, this bird is always smiling like there's nothing to worry about."
"Eh? You don't like the emblem we designed, do you?" Every time he talked about the emblem, he became serious. "Mind you, the desire we entrusted to this emblem when we made this is..." 2nd Lt. Rick started to explain it endlessly. I interrupted him and a little sullenly said, "I've heard that story many times before." I left the hangar and went back to my room. That's how things were then.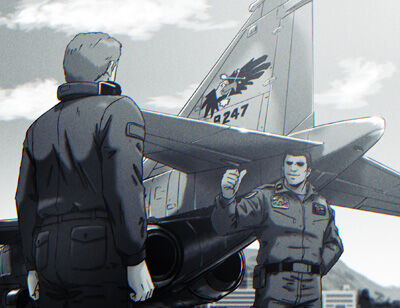 I guess I was confident in my ability at that time. That's why I felt kind of impatient in a place like this provincial base and with people like 2nd Lt. Rick. I groundlessly thought I was good enough. That sure was a pitfall that awaits unwary, young people.
That confidence of mine was to be shattered so easily when I was plunged into battle for the first time.
After the 10 days that came and went like a storm, most of Aurelia had been taken by Leasath. The assault of the Leasath forces was so quick and fast that we were unable to do anything. We only found that Aubrey Base was isolated like a desert island in the ocean. And the information was delivered to us that the Leasath forces were intending to attack and capture Aubrey Base. Fortunately or unfortunately, we could catch this information in advance. But when I first heard the information, I thought about if I was lucky or not.
An emergency briefing was immediately held for the intercept mission, but weariness and resignation had already predominated the base. We had been cut off from HQ. The intercept mission itself was proposed as a kind of bravado to let Leasath know what we could offer them with what little we had. On behalf of my superior who was on leave and incommunicado, I was assigned a role of briefing the mission. And... dammit, I was so confused that I almost lost it. I was nervous. I tried to focus, but words from my mouth got thiner.
"So, launch please. I'd like you to get back at Leasath as much as possible." I managed to finish the briefing with those kinds of words, but it was after a quite a while that I noticed that I'd been trembling.
But my apprehensions were swept away once the mission started. My pilots were all sharp. 2nd Lt. Rick, who was always fooling around, shot down enemy planes, shouting vividly.
Watching their maneuvers, I thought they didn't need strep from me. In fact, I was having a helluva time keeping track of them. Among those pilots, the Captain was one of a kind.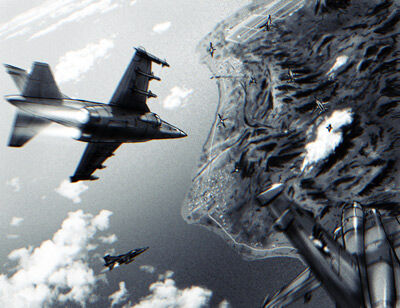 The deafening roars of fighters, and the sounds of exploding bombers. The number of Leasath aircraft was decreasing one by one.
3 planes left, and 2 planes, and 1... And, it was over.
When the last enemy bomber blew up in the air and crashed into the water, I heard 2nd Lt. Rick on the radio saying, "How about we fly on and take back the capital Gryphus 1? I'm sure they'll be running scared!"
Feeling all stiff, I couldn't even tell them that the mission was successfully completed.
I tried to calm down at the voice of 2nd Lt. Rick, and then... I saw something in my sight. A blip on my radar. I screamed before I recognized what it was. "Radar contact! Something is approaching fast! It's... a missile!"
Dammit, the information was there. 'Gleipnir', the Airborne Fortress of the Leasath Forces. It's the thing that made possible Leasath's lightning quick invasion. Its special weapon...
"SWBM! Hurry up and retreat!"
"Where should we fly? Direction?! Distance?!"
2nd Lt. Rick's voice echoed. I couldn't tell him anything though. The blip on radar was moving too fast. I shouted how I felt.
"It's no use, the missile's too fast!"
At that moment, a column of light tore the sky apart.
And then, a flash of light exploded in midair. The light simultaneously gave birth to an intense shockwave, and it instantly consumed the surrounding airspace. A moment later, thunderous sounds of the explosion filled the sky and I felt like I was almost blown away by that blast.
Our friendly planes easily fell victim to the hammer of the air. They were all blown away, destroyed, and crashed into pieces. And...
"Gryphus 2, please respond!"
His plane's emblem turned into a fireball in front of me as I was crying out desperately.
Original Japanese
正直なところ、僕はずっと、グリフィス隊のエンブレムを好きになれなかった。お気楽な笑顔を浮かべたグリフィス(ハゲワシ)のデザインが、田舎の基地の気風と重なってうけつけなかったのだ。
海上防衛を主任務とするオーブリー基地は、しかし他国からは離れた位置にあり、あまり重要視されてはいなかった。
だからこそ、通信士として駆け出しだった僕の、最初の配属先となったのだろう。
大海に面しているため常に潮の香りがし、緯度の高い場所がら一年の大部分が寒さに悩まされる。
その頃の僕はいつも、この基地を離れることを考えていた。
訓練終了後には、よく機体を見に行ったものだが、それは他に取り立てて暇をつぶせることがないから、という理由以外の何物でもなかった。
周囲数十Km圏内に小さな漁村と港町しかないこの基地では、周囲にあまり気を遣う必要がないためか、訓練の回数は多いように思われた。
機体を眺めていると、同じく訓練を終えたリック中尉が声をかけてきたものだ。
「よお、新人」
彼はいつも気さくで、無遠慮だった。グリフィス隊のエンブレムを指しながら、痛がる僕を気にせずに大げさに肩を叩いてくる。
「今日の指示も、相変わらず硬かったな。いつまでもそんなんじゃ、グリフィスちゃんに笑われちまうぞ。ちょっとは、肩の力を抜いて笑ってみろ」
「中尉が軽すぎるんですよ。だいだい、こいつはいつも笑っているでしょうが。呑気な顔して」
「お? 俺たちが考えたエンブレムに文句があるのか」
エンブレムの話になると、彼はいつも少しムキになった。
「いいか、そもそもこのエンブレムに俺たちが込めた思いっていうのは…」
力説するリック中尉。それをさえぎり、僕は少し不機嫌に言った。
「その話は、前に何度も聞きましたよ」
適当なところで話を切り上げて自室に戻る。それは、いつもの光景だった。
..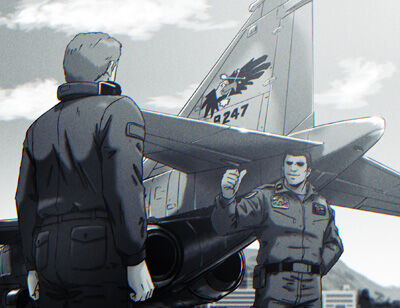 その時の僕は、自分の能力に自信を持っていたのだと思う。
だからこそ、リック中尉に代表される田舎の基地の気風に、歯がゆさを感じていた。
それは、若い頃にありがちな、根拠のない自信だったのだろう。
だが、その自信はあまりにもあっさりと打ち砕かれることになった。
初めての実戦を経験したあの時に。
突然の嵐のような10日間が過ぎ、気がついた時には、オーレリアの大部分はレサスに奪われ、オーブリー基地は洋上の孤島のように取り残されていた。
それほどまでに、レサス軍の侵攻は唐突で素早かった。
そして、なすすべもなかった僕たちにもたらされた、レサス軍によるオーブリー基地への侵攻作戦の情報。
それを事前にキャッチできたのは、果たして幸運だったと言えるのだろうか。あの後、僕は、本気で考えたものだ。
急遽、迎撃作戦のブリーフィングを開くこととなったが、基地はあきらめと疲労感に重く支配されていた。
軍本部とはとっくに連絡がとれなくなっており、その作戦は、「せめて最後に、レサスの奴らに思い知らせてやろう」という、投げやりなカラ元気の中から、発案されたものだった。
休暇で基地を離れたまま音信不通となった上官に代わり、作戦の説明は僕の役割となった。
そして…クソッ、僕は混乱を抑えるのに必死だった。
緊張から、必要な情報を伝えるのに苦労し、言葉は気弱になっていく。
「では、出撃をお願いします。
せめて、レサス軍に一矢報いてください」
何とかそう締めくくった後も、しばらくは、自分が震えていることすら気付くことは出来なかった。
だが不安に反し、ミッションが開始されると、パイロット達の動きは的確だった。
いつもおどけているリック中尉も、陽気な声を張り上げながらではあるが、敵機を撃墜する。
彼らの動きを見ていると、僕の状況報告なんて必要ないのではないかと思われた。
何より僕自身が、彼らの動きについていくだけで精一杯だった。
中でも、群を抜いた動きをする隊長機が。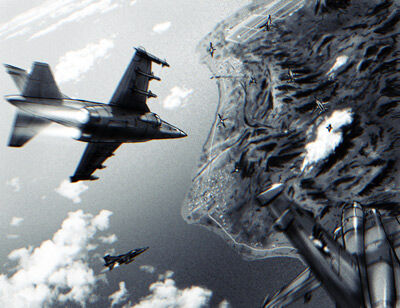 耳をつんざく戦闘機の飛行音と、破壊された爆撃機の爆発音。
レサスの爆撃機は、次々とその数を減らしていった。
3機、2機…1機……そして。
終わったのか…。
最後の爆撃機が爆発し、海面へと墜落した途端、無線からリック中尉のおどけた口調が流れてきた。
「グリフィス1。このまま一気に首都奪還ってのはどうだ?
 やつら、慌てふためいて逃げ出すに違いないぞ」
緊張にこわばったままの僕は、ミッション終了を告げる言葉すら出せずに放心していた。
リック中尉の言葉に、ようやく力を抜こうとして…。
その時、僕の視界の隅に、光る点が捉えられた。
レーダー上の光点…それがなにか理解するより早く、僕は叫んでいた。
「――レーダーに反応!
 何かが高速で接近中…ミサイルです!」
そうだ…確かに情報は入っていた。レサスの、あっという間の侵攻を可能にした空中要塞『グレイプニル』。その機体が使用する兵器。これは…。
「SWBMです! 早く退避してください!」
「どっちに行けばいいんだ! 方向は! 距離は!」
リック中尉の声が響く。
だが、僕は何も応えることが出来なかった。スクリーンを移動する光点のスピード、それがすべてを物語っていた。感じたままを、叫ぶ。
「駄目だ、間に合わない!」
瞬間、天から光が突き刺さった。
ひときわ大きな光が空中で炸裂する。
解き放たれた光は、炸裂すると同時に強烈な衝撃波を生み出し、それは周囲の空間に向かって一気に疾走した。
一瞬の間をおき、雷鳴を思わせるすさまじい轟音が天空に鳴り響いて、身体を圧する。
圧縮された大気の鉄槌に、空にいる機体はひとたまりもなかった。
次々となぎ払われ、破損し、いいように吹き散らされていく。
そして…、
「グリフィス2、応答してください!」

叫ぶ僕の目の前で、リック機のエンブレムが炎に包まれた。
Standoff in the Skies II
The below English translation was provided through Electrosphere.info.[2]
English Translation
The Gleipnir had always been lingering on my mind since that nightmare of the battle where Gryphus Squadron was almost annihilated by the attack of just a single SWBM. Aurelian ground forces organized a formation to settle the score with that monster and were advancing toward the river side city of Santa Elva.
"There it is, the Gleipnir!"
"Commence firing! Give it everything you've got!"
The ground forces quickly opened fire on the giant hull of the Gleipnir when it showed up above the sky. Attacks from the ground were supposed to be the best bet against the Gleipnir, for it was believed that the Gleipnir was not capable of launching an attack downwards. But the ground forces underneath the Gleipnir were instantly blown away just after the moment it emitted a flash of light. An unknown attack from the Gleipnir. Something that was not in our data... looking at the shockwave spreading downwards, I learned that our operation was totally beside the mark.
The moment I realized it, I found myself shouting on the radio.
"Gryphus One! If our ground forces are wiped out here, we'll be unable to maintain the military. I'll display damage status of our friendly ground forces on your MPG. Protect them and don't let it max out, please."
This was different from the mission at Cape Aubrey. Gryphus Squadron took back Port Paterson, which gave the Aurelian forces a little bit of hope. For those who gathered, and for the purpose of taking back Aurelia, the importance of the roles we had to carry out was growing bigger than ever.
I saw the Gleipnir in front of me for the first time, and its presence was overwhelming; almost godlike. As if it was the incarnation of the sky itself. Its giant body disappeared like it soaked into space. And then, an Aurelian aircraft that was flying close to it blew up. It crashed into the invisible giant. Other planes quickly and dispersed.
It seemed there was nothing we could do against the Gleipnir's optical camouflage. However, there was one plane that was inflicting damage to it effectively. Gryphus One... the flight lead. The missile fired from his plane hit the invisible wall and exploded.
"Serious damage on the optical camouflage system! We can't maintain optical camouflage!"
A strained voice of a Leasath soldier was heard on the radio. At the same time as that voice, the giant hull of the Gleipnir showed up.
"Right on! The cloak's been stripped off!"
I could hear Gryphus Squadron members rejoice, but that moment of our hope lasted only for a second. A missile was launched from the upper deck of the Gleipnir. It smoked a long trail to climb up the sky, and started to dive down on us.
"Gleipnir fired a missile!"
I shouted out right away. Tension was bursting from my chest and made me feel suffocated while I was counting down. The hammering of my heart couldn't be subsided.
"10 seconds to impact. 5... 4... 3... 2... 1... Impact!"
Just that moment, a spear of light tore up the sky. An even greater fireball exploded in the air. When the light was set off, the explosion gave birth to intense shockwaves which swiftly expanded away to consume the surrounding space. A moment after, a thunderous roar resounded the sky and it felt like my body was blown away. The shot that reminded me of the nightmare at Cape Aubrey, threw me into confusion with such ease.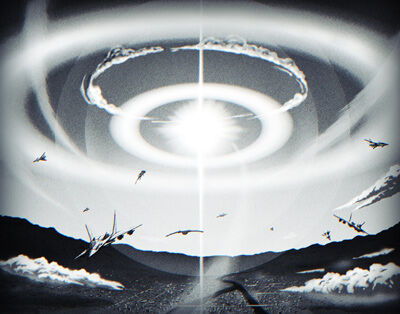 The emblem of Rick's plane was enveloped in flame...
How they all went down, exploding and being incinerated...
It was as if the nightmare at Aubrey Bay were replaying in front of my eyes.
The aftermath of the compressed air passed by, leaving the atmosphere slightly shaken just like the nightmare was still lurking around.
My brain had already ceased to function, and all my body could do was to tremble at a loss for what to do. My eyes were left open, but nothing was moving in my sight... until the emblem of the Captain's plane came in. That symbol of the bird smiling like there's nothing to worry about.
Under a pressing circumstance like this, it was smiling so optimistically just like it had been. I almost thought it told me to stop being scared of anything.
It reminded me of a scenery of the past. Aubrey Base, before the war broke out. In the base where it was always cold and was filled with the sea smell, I saw 2nd Lieutenant Rick pointing at the Gryphus Emblem.
I heard him say, "Listen, vultures are believed to feed on dead flesh. People even think they are ominous creatures. They always stare down at their preys in the sky with tremendous eyesight. Our existence may be awkward in peaceful days like now. Heck, that's why we need to remember Gryphus to keep an eye on the surroundings. Look. What this bird has in its beak. It's the Southern Cross, the symbol of our country. This means we are the ones who protect this country. To do that, you gotta be able to relax and smile no matter how desperate the situation is, just like this cute Gryphus birdie. That's our duty. Someone who is always stiff like you is far from mature. Train hard to get to know what Gryphus is all about. If this bird laughs you away, then you are still a nugget."
... He's right. There's no time to be confused. It's my duty to deliver appropriate information to everybody. That's what I must do. I gotta relax myself to carry out my job. At this rate, the Gryphus won't stop laughing my ass away.
The SWBM was launched one more time by the Gleipnir. But its timing of impact was totally predicted due to the analysis of the data from Aubrey Base.
"10 seconds to impact"
The Captain's plane, which was charging at the Gleipnir, changed course simultaneously.
He descended to lower altitude in an instant, leaving splendid trails in the sky. That was a perfect maneuver in sync with my countdown.
"5... 4... 3... 2...1... Impact!"
At that moment, the Captain's plane was at safe altitude and weathered the shockwaves.
Upon the impact, he once again started to fly toward the Gleipnir.
He steadily decreased the number of the Gleipnir's SWBM launchers, and evaded enemy attacks in accordace with my instruction. That moment, I was under the strange illusion that I was dancing in the sky with the Captain.
And when I came to my senses, the Captain's emblem caught my eyes. I surely saw the Gryphus, which always laughed at me, welcome me with a gentle smile. That moment I felt as though, I was a member of the Gryphus Squadron for the first time.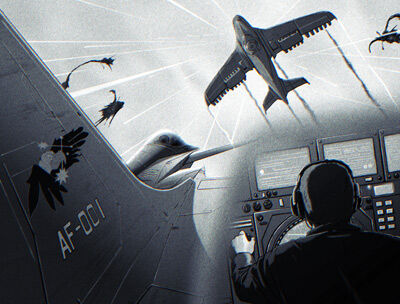 ~END~
Original Japanese
たった一発のSWBMの攻撃によって、グリフィス隊が壊滅直前にまで追い込まれたあの悪夢からこっち、グレイプニルのことが頭から離れない日はなかった。
あの化け物との決着をつけるため、オーレリアの地上部隊が編隊を組み、水上都市サンタエルバ目指して進軍していく。
「見えた、グレイプニルだ」
「砲撃開始! ありったけの弾を撃ち込め!」
上空に出現したグレイプニルの巨体に対して、地上部隊は一斉に攻撃を開始した。
地上からの攻撃は、直下への攻撃を不得手とするグレイプニルに対する、最善の手段のはずだった。
だが、グレイプニルが光を発したかと思った次の瞬間、真下にいた地上部隊が一瞬で吹き飛んでいた。
これまでのデータにはなかった、グレイプニルの新たな攻撃…。
直下に向けて放たれた衝撃波は、僕たちの作戦がまったくの見当違いだったことを告げていた。
それを思い知らされた瞬間、僕は通信機に向かって叫んでいた。
「グリフィス1!ここで味方地上部隊が全滅すると、軍を維持できなくなります。
 MPGに味方地上部隊の被害を表示しますので、これがMAXにならないように守ってください。」
オーブリー岬でのミッションとは違う。
グリフィス隊はパターソン港までをも取り返し、ほんのわずかだが、オーレリア軍に希望を与えていた。
集まってくれた彼らのためにも、そしてオーレリアを取り戻すためにも、僕たちの果たさなければいけない役割は、圧倒的に大きくなっている。
はじめて目前で見たグレイプニルは、天空そのものが神として現れたような、圧倒的な威圧感を放っていた。
その巨体が、空間に染み込むようにかき消える…。
直後、近づきすぎていたオーレリア機が、爆発炎上した。
見えない巨体への激突。あわてたように、他の機体が散開する。

グレイプニルの光学迷彩の前に、なす術は無いかと思われた。
だが、姿見せぬ化け物に、的確に攻撃を加える機体があった。
グリフィス1…隊長機。
その機体から放たれたミサイルが、文字通り見えない壁を捉え、炸裂する。
「光学迷彩システムに深刻なダメージ! 光学迷彩を維持できません!」
無線を通じて、レサス兵の緊迫した声が鳴り響いた。
その声と同時に、グレイプニルの巨体が現れる。
「やった!化けの皮がはがれたぞ!」
対照的に、グリフィス隊員の声は歓喜に満ちていた。
けれど、僕たちにもたらされた希望はほんの一瞬のものでしかなかった。
その時、グレイプニルの上部からミサイルが発射された。
長く尾を引く軌跡を残し、それは空高く舞い上がったかと思うと、真下へと降りてくる。
「グレイプニル、ミサイル発射!」
とっさに、僕は叫んだ。必死でカウントを数えながらも、胸を内側から圧迫するように、息苦しいまでに緊張感が高まっていく。動悸を抑えることができない。
「着弾まで、あと10秒。5…4…3…2…1…着弾!」
瞬間、天から光が突き刺さった。
ひときわ大きな光が空中で炸裂する。
解き放たれた光は、炸裂すると同時に強烈な衝撃波を生み出し、それは周囲の空間に向かって一気に疾走した。
一瞬の間をおき、雷鳴を思わせるすさまじい轟音が天空に鳴り響いて、身体を圧する。
オーブリー岬での悪夢を呼び覚ますその一撃は、あまりにもあっけなく、僕を混乱の中へと叩きこんだ。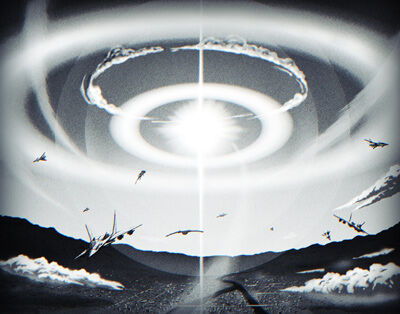 炎に包まれるリック機のエンブレム。
爆発、墜落していくみんなの機体…。
オーブリー岬の再現が、目の前で展開されたように思われた。 圧縮された空気の余波が通り過ぎ、悪夢の余韻のように大気が震える。
僕は思考が停止してしまい、ただ震えながら呆然としていて…その時、凍り付いていた僕の視界に、隊長機のエンブレムが現れた。
お気楽な笑顔を浮かべたグリフィスのシンボル。 こんなに緊迫した状況にあって、相変わらず呑気に笑っている。まるで、何も怯えることなんてないのだと言っているように。
それは、僕に過去の風景をもたらした。
まだ戦争が始まる前の、オーブリー基地。
いつも潮の香りにつつまれ、寒さに悩まされるその場所で、グリフィスのエンブレムを示しながら、お決まりの話をしているリック中尉の言葉を…。
"いいか、グリフィス(ハゲワシ)ってのは、死肉を喰らう、忌まわしいとすらされている生き物だ。
すっげえ視力でにらみを利かせて、いつも空から獲物を狙ってやがる。
この平和な時代に俺たちの存在は不釣合いかもしれないが、だからこそ、俺たちはグリフィスみたいな気持ちを忘れずに、周囲に目を光らせていないといけないんだよ。
見てみろ。こいつが咥えているのは、俺たちの国、オーレリアの証でもある南十字星だ。
それは、俺たちがこの国を護るってことの証なんだ。
 このグリフィスちゃんのように、どんなに緊迫した状況でも、笑っていられる余裕を持ってな。
 それが俺たちの役目だ。
ま、いつまでも硬くなっているだけの新人君は、少しでもグリフィスちゃんに近づけるようにがんばるんだな。こいつに笑われているうちは、まだまだだよ"
…そうだ、混乱している場合じゃない。
的確な情報をみんなに伝える。それが僕の役目なのだから、その役目を果たすために、余裕を持て。
このままでは、僕はいつまでたってもグリフィスに笑われたままになってしまう。
グレイプニルから、再びSWBMが発射された。
だがその飛来のタイミングは、オーブリー基地でのデータを解析して、完全に把握していた。
「着弾まで、あと10秒」
その言葉と共に、グレイプニルへと向かっていた隊長機が軌道を変える。
大空に見事な軌跡を描きながら、一気に高度を下げた。
それは、僕のカウントでタイミングを見計らった、完璧な動きだった。
「5…4…3…2…1…着弾!」
その瞬間には、隊長機は安全圏まで高度を下げ、衝撃波をやり過ごしていた。
そして着弾と同時に、再びグレイプニルへと向かっていく。
グレイプニルのSWBM発射口を着実に減らしていき、僕のカウントと共に敵の攻撃を避ける隊長機。
その時、確かに僕は、隊長と共に空を舞っているような、奇妙な錯覚の中にいた。
そしてふと気がついた時、隊長のエンブレム…いつも笑われているだけだったグリフィスが、確かに僕に微笑みかけていた。
そう感じた瞬間、僕は初めて、グリフィス隊の一員になれた気がした。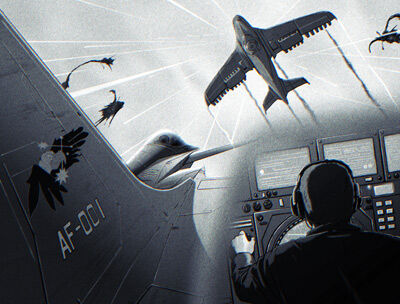 ~END~
References
Community content is available under
CC-BY-SA
unless otherwise noted.