The F-14D "VF-1J & VF-1S Valkyrie" DLC pack was a pack of two aircraft paint schemes for Ace Combat: Assault Horizon. The two paint schemes celebrated the 30th anniversary of Super Dimension Fortress Macross in 2012, and was exclusive to Japan. Both liveries pay homage to two variants of the VF-1 Valkyrie transforming fighter jets in the anime.
The pack released exclusively in Japan on March 21, 2012 at the price of 600 JPY on PlayStation 3, and 400 Microsoft Points on Xbox 360.[1][2] It was removed from both storefronts on January 26, 2017 along with Assault Horizon and all of its other DLC. Since the DLC was exclusive to Japan, it is not available in the Enhanced Edition version of the game on Steam.
Description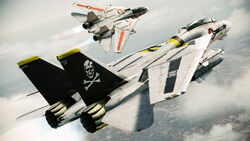 The F-14D "VF-1J Valkyrie" features a white paint scheme with red stripes on the aircraft's sides, midsection, and wings. The skin also bears the emblem of U.N. Spacy on the left wing and on both sides of the nose under the cockpit.
The F-14D "VF-1S Valkyrie" is visually similar to the VF-1J, but its stripes are black and feature a yellow trim. The vertical stabilizers are completely painted black and bear the "Jolly Rogers" emblem of Skull Squadron. The right wing displays the number "00".
Galleries
VF-1J
VF-1S
References