World of Warcraft: Dragonflight - The Loop
Play Sound
The F-15C Eagle is a tactical twin-engine fighter. It debuted in Air Combat and has since become a prominent aircraft in the series.
History
Strangereal
F-15Cs were deployed by the Scarface Squadron during the Skully Islands insurrection in 1995. They were also deployed by the coup d'état forces during that period.
F-15Cs were deployed by numerous countries during the Belkan War of 1995 including Belka, Ustio, Yuktobania and Osea. Notable pilots include the renowned Cipher and Solo Wing Pixy of the Galm Team.
Eagles were deployed by both ISAF and Erusean forces during the Continental War. One Eagle in particular belonged to the Erusean ace "Tuttle".
The Yuktobanian Air Force also deployed F-15Cs during the Circum-Pacific War of 2010 along with the Osean Air Defense Force.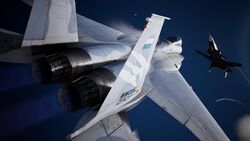 F-15Cs continued to be fielded in the Lighthouse War. OADF F-15Cs were seen chasing multiple Erusean MQ-99 drones at the same time Avril Mead performed the maiden flight of her F-104C, but she was shot down by the F-15Cs, as she was violating restricted airspace during her flight and had no IFF or radio equipment. The Long Range Strategic Strike Group, including Trigger and Count, used the F-15C during their operations.
Assault Horizon universe
Warwolf Squadron had access to the aircraft during the New Russian Federation uprising.
Infinity universe
The aircraft was used by the USEA Federation during Operation Override. The Eagle was also available for UNF pilots.
Game Analysis
Trivia
Footnotes
References