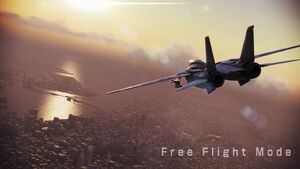 "Fly freely through the skies in any aircraft that you like."
― Sortie description in Ace Combat Infinity
Free Flight (フリーフライト)[1][2] is a gameplay mode that allows the player to fly freely by themselves in any campaign mission area with no enemy forces. The mode debuted in Ace Combat 04: Shattered Skies and has only appeared in most subsequent console games.
Description
Free Flight is available in the following games:
Ace Combat Infinity was the first and only game in the franchise to offer Free Flight as optional paid DLC through the Free Flight Ticket & Bonus Item Set. Notably, the player could fly freely in any Online Co-Op Missions area in addition to the campaign areas.[4]
Some of these games feature Easter Eggs, particularly Ace Combat 5 (see polar bears), to promote the Free Flight feature.[5]
Footnotes
↑ While Free Flight in Ace Combat 6 has no time limit, a timer is still displayed but does not move. The time displayed equates to the standard mission's time limit.
References