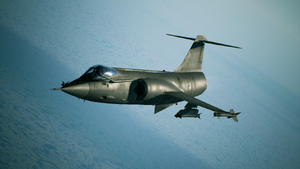 Generations are categories that separate major technological leaps in the development of fighter aircraft propelled by jet engines. Aircraft with similar technologies are grouped in the same generation for historical context and conversation.
Multiple generation definitions have been proposed; the aerospace industry does not follow a standardized format. Instead, companies use generations as marketing terms to present their fighter aircraft as superior to their competitors, which they claim are within a lower generation.[1]
The Ace Combat franchise rarely addresses fighter generations since aircraft tend to have similar gameplay features. Any classifications that do exist are usually in aircraft descriptions or materials outside of the games. Ace Combat Infinity and Ace Combat 7: Skies Unknown made generations more apparent through the Aircraft Tree, where aircraft further to the right on the trees are usually in higher generations.
Definitions
Fifth generation and older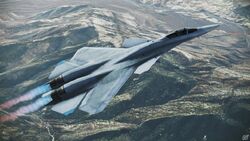 In Ace Combat Infinity, leveling up the MiG-35D Super Fulcrum to Lv.3 unlocked the "Fourth Generation ++" nickname,[3] which follows the definitions laid out in Air Force Magazine in October 2009.[4] At the same time, the ADFX-01 Morgan's description in Infinity stated it was a "4.5th generation" aircraft,[5] which follows the definitions laid out by Aerospaceweb.org.[6]
A combined set of definitions is available below, following Aerospaceweb's naming scheme.
Sixth and seventh generations
The sixth generation of fighter aircraft is still only conceptual in real life, so no general definition exists yet. This section is primarily concerned with the Ace Combat franchise's definition of the sixth and seventh generations.
At least one fictional aircraft in Ace Combat—the ADF-11F Raven—has already been described as seventh-generation.[7] Not all fictional aircraft are as cutting-edge; as stated above, the ADFX-01 Morgan is officially considered in the 4.5th generation.[5]
Air Force Magazine predicted "directed energy weapons" and "optionally manned" would be two requirements for sixth-generation aircraft.[4] Ace Combat does not follow that definition. The Tactical Laser System was featured on the F-15E Strike Eagle and Su-37 Terminator in Ace Combat 7, and Zone of Endless piloted the F-14D Super Tomcat in Ace Combat: Assault Horizon Legacy (or the F-14A Tomcat in Ace Combat 2). All of these are fourth-generation aircraft.
The CFA-44 Nosferatu is described as "next-generation" in the context of Ace Combat 6: Fires of Liberation. All of the aircraft in Ace Combat 6, besides the CFA-44, are fifth-generation (F-22A Raptor) or older, implying the CFA-44 has features that make it a sixth-generation aircraft.
As such, below are two proposed generation definitions based on Ace Combat:
6. Mobility beyond fifth-generation supermaneuverability, internal superweapon bays,[note 1] and minor networking support[note 2][note 3]
7. Advanced networking and modular design[note 4]
Footnotes
References