All right, gentlemen, it's time to clean house!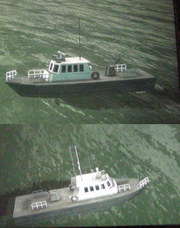 Gunboats are small, lightly armed patrol craft that are frequently encountered throughout the Ace Combat series. They are often found patrolling rivers or near water-side facilities and will fire and damage the player if they fly too low.
Appearances
Operators
Notable Units
Seagull Recon Unit / Aurelian Navy (ACX)
Offside / Valahia (AC:JA)
Armament
Gallery
Trivia
Sources
Ace Combat Series - Ingame Data
JianDaoXiao - AC6 Image
Community content is available under
CC-BY-SA
unless otherwise noted.