The IUN is an international peacekeeping organization in the Strangereal universe. The IUN primarily maintains air traffic control across the Usean continent.[1] The organization also maintains the IUN Peacekeeping Force (IUN-PKF),[3] a military force comprised of air, land, and sea units. While some of these are Usean military units,[4] the majority of them are borrowed from the Osean Defense Forces.[5]
The IUN carried out its peacekeeping duties since at least the 1990s and continued to do so in the 21st century. The organization did not directly interfere in major conflicts until 2014 with Free Erusea's second uprising.[1] The IUN was then heavily involved as an Osean proxy in the 2019 Lighthouse War; restructuring after the war reduced the IUN's reliance on Osean troops in favor of more Usean representation.[6]
Names
The IUN and its peacekeeping force have been referred to by multiple names:
History
Early conflicts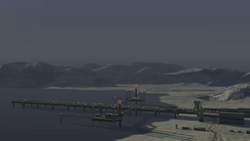 In 1996, the IUN was involved in a standoff between FCU and Erusean forces in Ugellas and Amber. Following the Ulysses 1994XF04 on April 20, the FCU forces retreated from the region, prompting the IUN to retreat as well. The IUN was hampered by logistical difficulties and heavy storms, preventing a full retreat until April 22.[8]
In 2006, after the Continental War, Free Erusean rebels seized an IUN-controlled former military factory in White Valley.[9] The rebels launched attacks across the Usean continent using arms from inside the factory. The Independent State Allied Forces launched Operation Katina to quell the rebellion.[10]
Control over Usea
Some time after Operation Katina, the Independent State Allied Forces was dissolved;[4] the IUN took over its peacekeeping operations and some of its former units.[1] In 2014, the IUN deployed its new peacekeeping forces against a resurgent Free Erusea.[11]
In 2019, the IUN attempted to quell hostilities between the Osean Federation and Erusea. During the ensuing Lighthouse War, the IUN-PKF assisted Osean forces in pushing Erusean forces back towards the country's borders. Part of this effort included sending AWACS Sky Keeper to assist the Osean Air Defense Force squadrons stationed at Fort Grays Island.[12]
Units
We've still got some work for you, too, so don't slack off now.
This article or section is a stub. You can help by
expanding it
.
Gallery
References
↑ 2.0 2.1 Mission 01: "Charge Assault", Ace Combat 7: Skies Unknown.
↑ 3.0 3.1 Mission 02: "Charge the Enemy", Ace Combat 7: Skies Unknown.
↑ 4.0 4.1 "Made in Usea", Usea Reconstruction: Space Elevator Nearing Completion. Our Science. Retrieved January 19, 2019.
↑ Cutscene 02: "This Means War", Ace Combat 7: Skies Unknown.
↑ 6.0 6.1 Cutscene 16: "The New System", Ace Combat 7: Skies Unknown.
↑ Aces At War: A History 2019, page 100.
↑ Cite error: Invalid <ref> tag; no text was provided for refs named AC7-M03