In Pursuit II is mission 11B in the campaign of Ace Combat X: Skies of Deception. The player can access this mission if they allow the Skylla Unit to advance on Mount Nevera and then advances on Mount Nevera themselves before Skylla relocates to Griswall. The player must destroy the Nevera Jammer's power facilities and jamming towers while avoiding the Skylla Unit.
The player must destroy the Nevera Jammer's power facilities and jamming towers while avoiding the Skylla Unit.
Objectives
Prior to the mission, the player will perform an in-flight refueling sequence.
The player is first tasked with disabling the Nevera Jammer's Aegis defense system. If the player gets within range of the defense system, they will be quickly shot down. Instead, the player must locate and destroy the four power facilities providing power to the defense system. There are also six decoy facilities; the player must destroy the four real facilities, marked by a white light. If the player destroys a correct facility, the Multi-Purpose Gauge will lower by 25% and Eugene Solano will confirm the power loss. The player's radar will be intermittent, depending on the difficulty and the number of correct power facilities destroyed:[1]
Correct power
facilities
destroyed
Radar display time
(Seconds visible/invisible)
Easy
Normal
Hard
Ace
None
10/75
8/86
6/107
6/123
1
10/35
8/46
6/67
6/87
2
10/25
8/36
6/62
6/82
3
10/15
8/26
6/57
6/77
4
10/5
8/16
6/52
6/72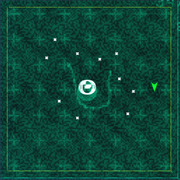 Power lines are strewn throughout the area, linking the locations of the power facilities. The player should use a combination of their radar (when it's visible) and these power lines to locate the facilities. However, the Skylla Unit will attempt to take down the power lines and fire on the player from the ground, and their vehicles will clutter the radar. Enemy air units will also chase the player.
Once the player destroys all four power facilities, the Aegis defense system will deactivate and the player can attack the Nevera Jammer directly. The mission is accomplished when all six jammers (marked as TGT) are destroyed.
Enemy Lists
The following enemy lists have been verified with the Ace Combat X: Skies of Deception - The Complete Guide.[2]
Standard Units
Special Units
S Rank
The player will earn an S rank if they complete the mission in eight minutes or less.[1] Selecting a fast aircraft will help to locate the power facilities quicker. The player should also ignore all optional targets and only focus on the power facilities and the jammers themselves.
Footnotes
References
Community content is available under
CC-BY-SA
unless otherwise noted.