All right, gentlemen, it's time to clean house!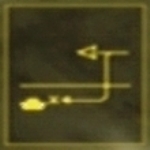 The Long-Range Air-to-Ship Missile (LASM) (in Ace Combat 04: Shattered Skies, Ace Combat 5: The Unsung War and Ace Combat: Assault Horizon Legacy named  Long-Range Air-to-Surface Missile) is a special weapon of the Ace Combat series. The missile is designed to destroy enemy ships at long range. The missile has high power and armor penetration, thus causing great damage to the selected target from inside. The missile has no area of destruction, therefore it is not suitable for killing groups of enemies.  In the Ace Combat: Assault Horizon game there is an association between the Long-Range Air-to-Ground Missile (LAGM) and  the Long-Range Air-to-Ship Missile (LASM) mixing them into a different type named LAGM, and as a result, the missile flies to the chosen target as an anti-ship missile, but has an area of destruction as the air-to-ground missile.
Game Analysis
Trivia
The LASM models used by various aircraft are as follows:
References
Community content is available under
CC-BY-SA
unless otherwise noted.