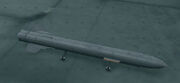 The Long Range Shock Wave Missile (LSWM) is a fictional, powerful missile weapon in the Ace Combat series. It was featured in the PlayStation Portable games - Ace Combat X: Skies of Deception and Ace Combat: Joint Assault - and was later added to Ace Combat Infinity.
Design
As implied by its name, the LSWM has a high lock-on radius and, upon impact, it damages the area around it with a massive shock wave. Its destructive power can annihilate almost all targets in a single hit.
The LSWM is a downsized version of the Shock Wave Ballistic Missile used by the airborne fortress Gleipnir. Compared to the SWBM, the LSWM has a much slimmer design, and its area of effect is reduced as a result.
Game Analysis
Ace Combat Infinity
"A missile with a special warhead that causes a shockwave around its point of impact. It can lock on to both ground and air targets and its characterized by causing damage over a wide area. It's effective for long range strikes against clusters of enemies, but requires careful handling due to relatively poor homing capabilities."
― Hangar
Aircraft
Statistics
Cst
A2A
A2G
HOM
DIS
DMG
REL
Price
Lv.1
16
C
C
C
C
D
E
0
Lv.2
31
C+
C+
C
C
D
E+
26,640
Lv.3
41
C+
C+
C
C+
D
D
103,680
Lv.4
66
B
B
C
C+
D
D
406,800
Lv.5
91
B
B
C
C+
D
D+
887,400
Total Credit Price from Lv.0 to Lv.5
1,424,520
Gallery
Ace Combat: Joint Assault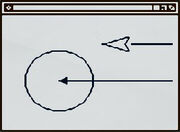 "This missile releases a massive shock wave upon detonation, causing damage over an extremely wide radius"
― Hangar
Statistics
Gallery
Trivia
In Ace Combat X, the LSWM is well known for being able to complete Out of the Fire in one shot. It can also be used during Atmos Ring to destroy all of the Meson Cannons in one shot.
In Joint Assault, as a trade-off for the increased ammunition, the LSWM has a lower area of effect.
If a third-party cheat device is used in Joint Assault during the mission Grand Flight, the 747-200B will gain the ability to use LSWMs.
Until the release of Ace Combat Infinity, the LSWM had the lowest ammo count of any special weapon in the series (two shots on the Fenrir in Ace Combat X). This record was beaten by the ADFX-01 -Block1- , which only carries 1 shot of the Tactical Laser System until it is upgraded to Lv.6.
References