"Advanced Aircraft. Reductions in armor coupled with a stable thrust engine bestow this aircraft with advanced handling characteristics. The excellent thrust responsive is readily apparent to any pilot lucky enough to take a turn in cockpit."
― Official description
The Mirage 2000-5 -Advanced- is a downloadable aircraft in Ace Combat 6: Fires of Liberation. Released as part of DLC Pack #05, this Mirage 2000-5 variant is an homage to the French film "Les Chevaliers du Ciel" (Sky Fighters in English-speaking territories). It was released in February 2008 at a cost of 200 Microsoft Points, although the aircraft became free of charge in August 2009.
Performance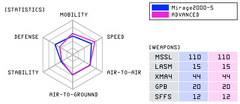 The Mirage 2000-5 Advanced possesses superior speed and mobility over the original model, at the expense of lighter armor. The aircraft has the tendency to "High-G lock"; that is, remaining locked in a High-G turn. Weapons capacity and performance are unaffected.