On June 6, 1995, at the height of the Belkan War, seven nuclear detonations took place in northern Belka, in the Waldreich Mountains region. Known as the Seven Pillars of Belka, this is remembered as one of the most important events in the Strangereal chronology.
Background
As the Belkan War was in its final days, the Allied Forces decided that taking Sudentor would be harmful to Belka's industrial power, as the South Belkan Munitions Factory was positioned here. Ustio's 6th Air Division's 66th TFS "Galm" and 4th AFU "Crow" were called into action to assist with the operation. When Galm and Crow reached the mountain range, however, they received a shocking message.
Detonations
Eagle Eye informed the team that multiple nuclear weapon-equipped bombers were heading towards Ustio. Galm and Crow headed to the situation as fast as possible in order to stop them. Midway through, PJ noticed a flight of four MiG-31 Foxhounds of the Belkan Air Force attacking the bombers along with them. Galm, Crow, and the defecting Belkans successfully shot down the bombers. Just when it seemed the threat was over, there was a flash to the west, and then chaos broke loose.
Stage of Apocalypse
Galm Team and Crow Team both saw the dreadful nuclear explosion to the west. Little did they know, it was only the beginning. It was later confirmed that seven nuclear explosions decimated seven Belkan cities, as well as
taking more than 12,000 innocent lives. June 6th, 1995 was a day that lived in infamy. No one truly understood why Belka did this. Some say it was to protect North Belka, the "Holy Land." Others believe it was because Belka's leaders could not stand the thought of enemy troops trampling on their land. Either way, it was a shocking event that put fear into citizens and militaries alike.
Aftereffects
The nuclear explosions prompted the Allied Forces to attempt to discuss a treaty that would end the Belkan War.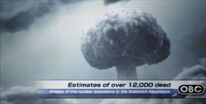 With this image etched into the minds of millions, nuclear prevention plans were being drafted as well. It also seemed that the effects of radiation in parts of Waldreich wore off rather quickly, as some of the land was habitable within just a couple of months, while other areas were revealed in Ace Combat 5 to still be highly radioactive fifteen years later.