Dead Cells Final DLC - The Loop
Play Sound
Nugget is the name given to the mascot character of Ace Combat Infinity. He is typically featured in promotional material, such as announcements of upcoming tournaments, maintenance, or milestones in the game. He later reappeared in Ace Combat 7: Skies Unknown portraying Trigger and Mihaly A. Shilage.[2]
Biography
According to the character information chart posted by Project Aces[1], Nugget lives with a pilot who he recognizes as parent (親軍人, literally translates to "relative-soilder") since he was the first living being that Nugget saw after the incubation.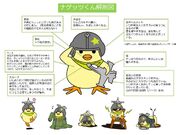 The fighter model that often seen to be carried by him in arts is an assembled but unpainted plastic model of the aircraft flys by the pilot. Despite the model's miniature size, Nugget collects materials as a daily task in hope to eventually modify and fly on it. Nugget's scarf was also made by the pilot with cut-off cloth from his uniform, after Nugget lost feathers due to being bullied by other nestlings.
Captain Andersen
On two occasions, Nugget has been compared with Captain Nicholas A. Andersen.
The first comparison was during the Naval Fleet Assault Ranking Tournament in October 2014, where Nugget was depicted wearing Captain Andersen's outfit in the promotional banner.
The second was during the "Commence battle! We are not alone!" Online Co-Op Missions tournament from December 2014 through January 2015. The tournament's title was a quote from Captain Andersen[3], and one of its rewards featured Nugget piloting a special model of the ASF-X Shinden II, the ASF-X -Happy New Year-

.
Ace Combat 7: Skies Unknown
Japanese PlayStation Network accounts that previously downloaded Ace Combat Infinity could gain early access to two PS4 Nugget avatars if they own Ace Combat 7: Skies Unknown on the same account[2]. The avatars became available to all players worldwide on November 27, 2019.
Gallery
References