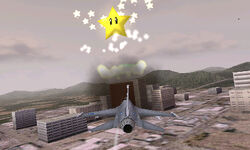 The
Question Block
is a special destructible item featured exclusively in
Ace Combat: Assault Horizon Legacy +
. Destroying them unlocks special themed aircraft for immediate use after the mission.
Description
If a mission contains a Question Block, it is noted by a Question Block sitting next to the difficulty at the top-right of the top screen in the mission selection. Shooting at the Question Block "destroys it" and plays an animation where a Super Star jumps out and spins around, similar to Mario games.
After the in-mission Question Block is destroyed and the aircraft collected, a medal in the shape of a Super Star will replace the Question Block in the mission selection to inform the player that the Question Block there has already been collected. The Question Block will not spawn again in missions where it was collected. Depending on the Question Block collected, the respective aircraft and all of its special weapons will be unlocked in the mission debriefing.
If the player scans the respective amiibos for any of the Question Block aircraft, their Question Block will be automatically considered collected and will not spawn in its mission.
All Campaign playthroughs in Legacy + feature the Question Blocks. However, the player can choose to disable Question Blocks for their first playthrough, but only the first one.
List of Question Blocks
The list of missions that feature a Question Block as well as the aircraft they unlock is as follows:
References
Community content is available under
CC-BY-SA
unless otherwise noted.