Raise a Floppa - The Loop
Play Sound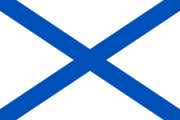 The Russian Navy (Военно-морской флот Российской Федерации, ВМФ РФ) is the navy of the Russian Federation. It was formed in January 1992 as successor of the Soviet Navy, which had been temporarily succeeded by the Navy of the Commonwealth of Independent States, itself formed after the dissolution of the Soviet Union in December 1991.
The Russian Navy operates a total of 233 ships and submarines. It also has an air arm, the Russian Naval Aviation (AV-MF), which operates land and ship-based aircraft and helicopters. Aircraft and helicopters of the Russian Naval Aviation apart from the usual emblems of Russia (red stars) have on the bodies of a small image of the flag of the Navy.
Assault Horizon
In Ace Combat: Assault Horizon, the Navy appears in the mission Hostile Fleet. The New Russian Federation faction captured the Russian prime minister and took him prisoner aboard a yacht in the Black Sea. The Navy, loyal to the NRF, guarded him (supposedly the Black Sea Fleet and Russian Naval Aviation). The Russian fleet was led by the Admiral Aristov, an Admiral Kuznetsov-class aircraft carrier. The United States Air Force and the loyalists of the Russian Air Force attacked the fleet as the United States Navy SEALs and Russian Spetsnaz commandos recovered the prime minister. Most of the naval forces there were destroyed.
Equipments
Aircraft (AV-MF)
Vessels
Gallery
References