Sergei Illich (セルゲイイリッチ Serugei Iritchi, Russian: Сергей Ильич), callsign Red Moon 1 (Russian: Красная Луна 1), is a Russian major. A former wingman of ex-Russian Air Force colonel Andrei Markov, he is part of the Russian forces working with NATO during the 2015 East Africa SRN insurgence.
Appearances
In the 1990s, Sergei Illich was assigned to a squadron that performed covert operations during the Bosnian War alongside Andrei Markov, who he would credit with saving his life during the conflict. Illich helped Markov locate his wife, Krista Yoslav, who was killed in a botched USAF airstrike. He consoled Markov after his loss, and the two remained close after Markov left the air force to become a mercenary.
Illich is first featured in "Inferno", where he assists the Warwolf Squadron in defending the NATO front base from an SRN airborne onslaught. During the mission he is shot down, and later rescued by the Shooter and Nomad Squadron when they assault an SRN-held town. After his commander, Ivan Stagleishov betrays Task Force 108, he assumes leadership of the loyalist Russians.
While in command, he secretly contacts Andrei Markov and uses mechanical problems as an excuse to disappear from allied airspace and defect. His betrayal becomes apparent after Markov usurps control of the New Russian Federation, and the two gather what pilots and aircraft they can, along with the one remaining Trinity weapon, and fly to South America. It can also be surmised that Illich attempted to join Markov during his time in Africa, but his "rescue" by the 108th Task Force thwarted that.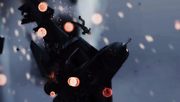 His final appearance is in "
Hurricane
"where he accompanies Markov, who is being chased down by Bishop. He breaks away from Markov in an attempt to shoot down Bishop, but is instead shot down himself and killed.
Trivia
A portrait of Illich is used in the image of the achievement "Category 5".
Yuri Lowenthal, Illich's voice actor, also voiced Larry "Pixy" Foulke from Ace Combat Zero as well as Toscha Mijasik from Ace Combat 6.
Illich's character could be partly based on Larry "Pixy" Foulke. Both had respect for the main character, both betrayed them by disappearing in the middle of the sortie, only to be shot down by the main character toward the end of the game.
Illich's last words upon being shot down is "Molodtsa!" ("Молодца!"). It is a derivative from "molodets" ("молодец", literally "good fellow"), which is commonly used in vernacular Russian as an expression of approval and respect ("You rock!"). Illich uses this catchphrase throughout the game to compliment Bishop's kills while fighting at his side.
Illich's paint scheme for his PAK FA seen in Hurricane is the same as Markov's, however his PAK FA does not have the Sharkmouth design on the nose. His paint scheme seems to be unobtainable in the game.
References
↑ Dates on the screen in mission 14 briefing.