All right, gentlemen, it's time to clean house!
The Sons of Troia is a terrorist organization that arose in the aftermath of the 2019 Ulysses Disaster. Owing to their actions. they were designated as a terrorist threat by the United Nations. Their logo is an stylized silhouette of a Spartan helmet.[1] Kacper Cohen is the leader of the organization before being assimilated into the USEA Federation.
Trivia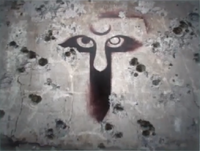 During the maintenance period for Ace Combat Infinity, the logo for the Sons of Troia was changed. The bullet holes were moved around to make a more circular pattern around the helmet silhouette, and the silhouette itself now has a much lighter shade of red than previously. There is no known reason for these changes; Project Aces did not even mention them.
References
Community content is available under
CC-BY-SA
unless otherwise noted.