Sophitia (SOULCALIBUR) is an emblem for Ace Combat Infinity. It was released during mid-September 2014 as part of a collaboration event between Infinity and another of Bandai Namco Games's free-to-play games: SOULCALIBUR® Lost Swords.[1]
The emblem will not appear in Infinity unless the player downloads, installs, and plays at least one mission in SOULCALIBUR® Lost Swords. The same PSN account must be used.
Description
This is a 'SOULCALIBUR Lost Swords' collaboration emblem. This emblem can be applied to your aircraft.
Purchased emblems can be selected from 'Edit Aircraft Sets' in the 'Hangar.'
*You may be unable to apply the emblem on certain locations depending on the skin being used.
*This item is only available if there is a record of the 'SOULCALIBUR Lost Swords' download on your Sony Entertainment Network account.
Trivia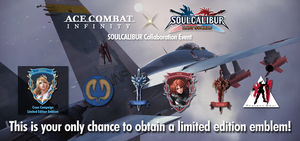 The emblem was released early in North America due to the PlayStation Store updating earlier in that region than any others. Due to this, users who acquired this emblem could not use it for 24 hours since Infinity did not recognize the event had started until the next day.
Lost Swords players received a free "Triangular Bikini (Celestial Blue)" item if they downloaded, installed, and played Ace Combat Infinity using the same PSN.[1] A special mission was also released in the game, where players would encounter five enemies whose names were based on aviation. Players would have a rare chance to encounter an enemy wearing a pilot's helmet in this mission, and, if they defeated the helmet-wearing enemy and won the mission, could earn it for their own character. It would also come with a cumulonimbus background (which looked similar to the sky over Comona Base) that players could use for a custom avatar in the game.[2]
As part of the collaboration event, five other SOULCALIBUR-based emblems were added as Limited-Time Drops.
References
↑ 1.0 1.1 SOULCALIBUR x ACE COMBAT Crossover Campaign Now On. PlayStation Blog Asia - Indonesia. Published September 8, 2014. Retrieved September 16, 2014.
Community content is available under
CC-BY-SA
unless otherwise noted.