"Team Battle" redirects here. For the free-for-all version of this mode, see Battle Royal. For the local splitscreen version of this mode, see VS Mode.
"Bring the enemy down together. Remember, you're not on your own out there."
Team Deathmatch is an online multiplayer game mode featured in Ace Combat 6: Fires of Liberation, Ace Combat Infinity, and Ace Combat 7: Skies Unknown. Two teams comprised of human players must shoot each other down until time runs out or one team earns enough score to complete the match.
The mode is named Team Battle in Ace Combat 6, Team Deathmatch in Infinity, and Team Death Match in Ace Combat 7. Infinity expanded on the Team Deathmatch rules to create two additional modes: Naval Fleet Assault and Ring Battle.
Rules
Team Deathmatch supports a maximum of 16 players in Ace Combat 6 and a maximum of 8 players in Infinity and Ace Combat 7. Players are divided into two equal teams either in the lobby or when the match starts. Players on the same team spawn close to each other at the start of the match. Each player is worth a certain number of points depending on the aircraft they're flying and, in Infinity and Ace Combat 7, their equipped tuning parts and special weapons. When a player is shot down, they must wait a certain amount of time before they're allowed to respawn again.
The first player to reach the specified score in the time limit wins. If the time runs out, the player with the highest score wins. Both the score and the time limit depend on the game. Players also earn ranks and certain bonuses or medals depending on their performance.
Most Ace Combat 6 stages also feature AI-controlled NPC units that award score or change gameplay if destroyed. These are not present in Infinity or Ace Combat 7.
Stages
The following stages are available for Team Deathmatch games.
Ace Combat 7
Each stage in Ace Combat 7 also comes with a short description about the area.
Infinity
Ace Combat 6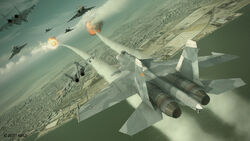 Each stage in Ace Combat 7 also comes with a short description about the area and the special mechanics at play.
References
Community content is available under
CC-BY-SA
unless otherwise noted.