The Tornado F3 is a long-range, twin-engine swing-wing fighter produced by Panavia.
History
Tornado F3's were sporadically deployed by the Yuktobanian Air Force during the Circum-Pacific War. Some of which were assigned to patrol around Glubina POW camp and were subsequently shot down by the Wardog Squadron in the ensuing POW rescue operation.[1] During Jilachi Desert Invasion, several Yuktobanian Tornado F3s were sent to intercept an Osean bomber formation approaching their HQ at Jilachi Desert.[2]
The Leasath Air Force was also known to use the aircraft during the Aurelian War, which also included an ace pilot with the callsign Gacrux.[3]
Game Analysis
We've still got some work for you, too, so don't slack off now.
This article or section is a stub. You can help by
expanding it
.
Ace Combat X: Skies of Deception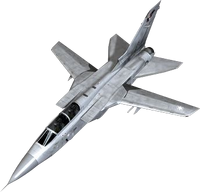 "An air superiority fighter characterized by its variable geometry wing design."
― Hangar
How to Unlock
Complete Standoff in the Skies I. Costs 22,500 credits.
Statistics

Weapons
Skins
Aurelia: Air superiority gray.
Leasath: Multi-tone blue desert camouflage.
Special 1: Deep brown desert camouflage.
Special 2: Bright white with red body stripes.
Named Pilots
Gacrux - Found in Blitz. Spawns with the reinforcements after the mission update if the radar net is cleared quickly.
Gallery
Ace Combat 5: The Unsung War
"A variant of Tornado GR.1 with a focus on air superiority. The fuselage is also extended to accomodate an intercept radar that tracks multiple target simultaneously."
― Hangar
How to Unlock
Fill the Tornado GR.1's Kill Rate Gauge. Costs Ƶ16,500 per unit.
Statistics
Speed: 73
Mobility: 59
Stability: 60
Defense: 91
Air-to-Air: 74
Air-to-Ground: 37
Weapons
Skins
OS: Air superiority gray.
RZ: Black body.
YK: Multi-tone blue desert camouflage.
Gallery
Ace Combat 2
The aircraft is displayed as TND-F3.
How to Unlock
Available in Extra mode by completing Rising High
Statistics
Power: 70
Defense: 40
Mobility: 50
Stability: 100
Climbing Ability: 70
Air-to-Air: 60
Air-to-Ground: 80
Duration of flight: 18 minutes
Absorbability: Normal
Weapons
Gallery
Trivia
References
Community content is available under
CC-BY-SA
unless otherwise noted.