Raise a Floppa - The Loop
Play Sound
The Tu-160 Blackjack is a high-speed, high-altitude bomber aircraft designed as a response to the XB-70 Valkyrie and B-1B Lancer bombers.
History
Strangereal
The Blackjack was only known to have been used by the Federal Erusea Air Force during the battle for San Salvacion when six of them were sent to bomb the city after it fell to ISAF forces. However, ace pilot Mobius 1 shot all of them down.[1]
The aircraft was fielded in the Lighthouse War, once again by Erusea as one of their primary bomber aircraft, often seen being utilised in conjunction with the Tu-95 Bear. Tu-160s were used during Operation Deer Horn,[2] Operation High Card,[3] Operation One Pair,[4] Operation Dragon Breath[5] and Operation Reflux.[6]
Assault Horizon Universe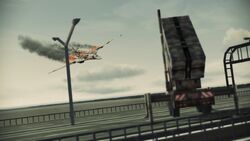 In the later days of the New Russian Federation uprising, the New Russian Federation was known to have utilized twelve Blackjacks.
During the liberation of Moscow, the first six were deployed to completely level the city after NATO and government loyalist forces liberated it from NRF control. The initial five were shot down by Warwolf Squadron before the sixth, carrying a Moskit cruise missile armed with one of the last of the Trinity warheads and escorted by Andrei Markov and his squadron, appeared from low altitude. It was also shot down.[7]
The remaining six appeared during the defense of the American east coast, first shown by spy cameras en route to Washington, D.C.[8] They were shot down; however, one of them crashed onto Woodrow Wilson Memorial Bridge, effectively knocking out the anti-air capabilities of Jericho Unit which was stationed on the bridge as part of the defensive units to guard the White House.[9]
Infinity Universe
The Blackjack was utilized by the USEA Federation during Operation Eternal Liberation.[10]
Game Analysis
Ace Combat 7: Skies Unknown
How to Unlock
This plane cannot be unlocked for use by the player.
Ace Combat Infinity
How to Unlock
This plane cannot be unlocked for use by the player.
Gallery
Ace Combat: Assault Horizon
How to Unlock
This plane cannot be unlocked for use by the player.
Gallery
A critically-damaged Tu-160 crashing into the Woodrow Wilson Memorial Bridge while Jericho Unit looks on, moments before their destruction
References