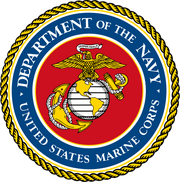 The United States Marine Corps (USMC) is a branch of the United States Armed Forces responsible for providing power projection from the sea, using the mobility of the United States Navy to deliver combined-arms task forces rapidly. It operates its own helicopters, planes, tanks, and APC's.
Equipments
Aircraft
Squadrons
Ace Combat: Assault Horizon
The 108th Task Force is known to use USMC F-35B's in their operations. The USMC Squadron VMFA-232 "Red Devils" aircraft paint schemes are available Downloadble Content (Red Devil F/A-18F Super Hornet pictured above).
Gallery
References