This year is the 25th anniversary of the Ace Combat franchise! Last year, Brand Director Kazutoki Kono and Ace Combat 7: Skies Unknown Producer Manabu Shimomoto revealed that there would be some surprises in store for the fans to celebrate the franchise's 25th anniversary, which takes place on June 30, the date of Air Combat's release in 1995.[1]
Both Kono and Shimomoto were on a Famitsu live stream yesterday (Japan time) to talk about their history with Ace Combat, some memorable moments in development, and some updates coming to Ace Combat 7![2]
There were more things to announce, but with the COVID-19 disease outbreak, the team felt it would be problematic to announce these things now. They hope to make announcements for the anniversary itself on June 30 if the global situation improves.[3]
AC7 Free Update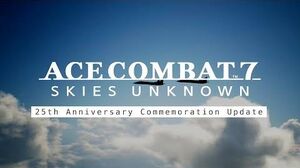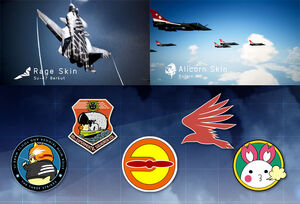 A free update to Ace Combat 7: Skies Unknown will arrive on April 2nd! This update will add a bunch of new skins and emblems to the game for all players on all platforms!
The free new skins are as follows:
The free new emblems are as follows:
Trigger (Low-Vis)
Mage (Low-Vis)
Spare (Low-Vis)
Strider (Low-Vis)
LRSSG (Low-Vis)
Alicorn Squadron
Mimic Squadron
Three Strikes Nugget
Mihaly Nugget
Kotobuki Team Emblem
Kylie Emblem
Harukaze Team Emblem
More DLC Aircraft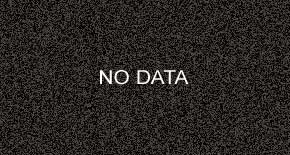 The team also announced that there will be more DLC aircraft coming to Ace Combat 7: Skies Unknown!
Unfortunately, there were no further details provided. We don't know how many aircraft will be developed, which ones they'll be, or when they'll release. We'll have those details as soon as they're announced!
2nd Alpha Industries Collaboration
Alpha Industries, the company that made an MA-1-style Three Strikes jacket for the Japanese market, has returned for a second collaboration! This time, they will be producing two T-shirts with unique designs, and the fans will decide which shirts they'll be out of a possible five designs!
You will need a Twitter account to participate in the voting period, by using the hashtag #ALPHAエスコンコラボ and one hashtag for each of the designs you're voting for. Anyone can vote, and votes will be counted once per day per account until April 8! The winning designs will be revealed on April 10, and the sale of the shirts will begin later in the year (tentatively June/July).
For more information, follow this link: https://alpha-usa.jp/shop/pages/special_20_aces_missions.aspx
LINE Stickers
The previously-announced Ace Combat 7-based LINE stickers will be coming soon! More designs were shown off during the stream, and there'll be around 40 stickers in total! More details will be announced on social media, so keep an eye out on @PROJECT_ACES!
Closing Remarks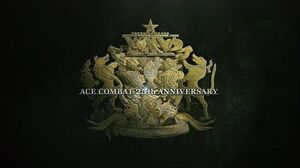 Some fans may feel that this was a little light on news. Kono and Shimomoto reminded that the actual anniversary is still later in the year, made mention of the COVID-19 situation, and assured that more news is coming:[3]
Shimomoto: It's a difficult time in the world right now, but since it is Ace Combat's 25th anniversary we would like to hype up Ace Combat once again this year. But first, everyone take care of your health, and once things get better around the world, we would like to do various things, so please keep on supporting Ace Combat from here on after!
Kono: [I mean this] sincerely, we were able to reach the 25th anniversary because of all of your support. Like with the free update and additional aircraft earlier, we would like to continue doing things that make you, the fans, happy. Unfortunately, we were bustling about until the last minute today, and I actually wanted to announce things that the fans can participate in for this broadcast, but I felt telling those kinds of things in this climate would be problematic so I refrained from doing so. But for the 25th anniversary, if the situation gets better, we have more things prepared that would make you guys happy, so for opportunities to announce those...I would like to come back to this [Famitsu stream]...[laughing]

Everyone wash your hands, overcome this [situation], and we would like to have an occasion where we can announce these things. Thank you for today.
References
Community content is available under
CC-BY-SA
unless otherwise noted.